NONFICTION FELLOW READING: ILANA BEAN
NONFICTION FELLOW READING: ILANA BEAN
May 8, 2022 @ 7:30 pm

-

9:30 pm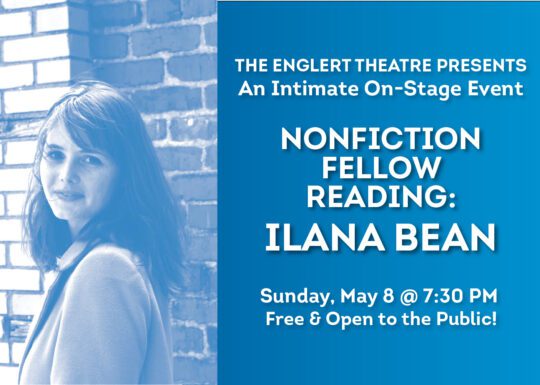 Ilana Bean, the fourth annual Englert Theatre Nonfiction Writing Fellow, will read as part of the onstage Intimate at the Englert series live on Sunday, May 8.
Bean is an MFA candidate in University of Iowa's Nonfiction Writing Program, where she has received the Iowa Arts Fellowship and Stanley Fellowship Award. Her work has appeared or is forthcoming in Nashville Review, DIAGRAM, Chicago Review of Books, Speculative Nonfiction, and elsewhere. She grew up in Virginia, and writes about biology and art.
About The Englert Theatre Nonfiction Writing Fellowship
Founded in 2019, The Nonfiction Fellowship was created in partnership with the University of Iowa Nonfiction Writing Program to support one writer currently in the program by providing working space close to the theater and allowing access to the arts. Recipients receive complimentary tickets to all Englert events as well as an open seat at MERGE co-working space in downtown Iowa City.
At the conclusion of the fellowship, the author's work is featured in the Englert's playbill magazine, Stages, and at a public reading and discussion at The Englert.