Old Capitol Exhibit Opening: Suffrage
January 27 @ 8:00 am

-

5:00 pm

Free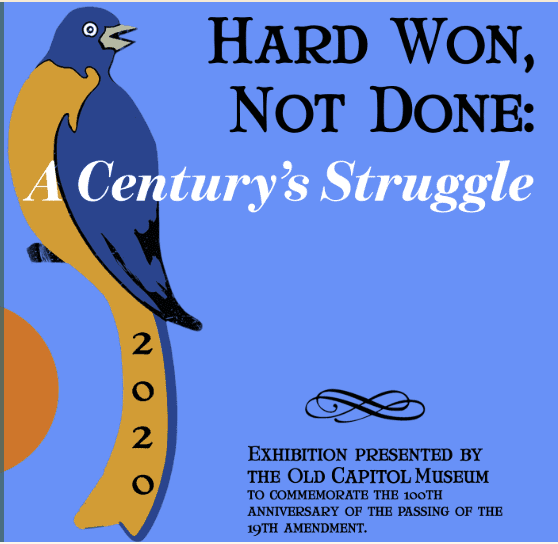 It is with great pleasure that I formally invite you to the grand opening of our latest exhibit—a collaborative, interdisciplinary effort: Hard Won, Not Done; A Century's Struggle. In partnership with the League of Women Voters, the exhibit features suffragist history and artifacts, examines themes of intersectionality, movement fragmentation, achievements and delays, and highlights some movement heroes with a call from the past to use your vote today.
Please join us Thursday, January 30th
4–6pm
4pm—opening
4:30pm—remarks from 20th Century U.S. Social and Political History Professor and Department Chair Landon Storrs
—refreshments after
Old Capitol Museum, 2nd Floor Rotunda
To commemorate the 100th anniversary of the passing of the 19th amendment, the Old Capitol Museum presents the exhibition, "Hard Won, Not Done: A Century's Struggle." An examination of the suffragists' work at the national, state, and local levels which carried us through our first step toward gender equality: a woman's right to vote. A monumental step, it was but the first of many—some still ahead.
We welcome you to the 2nd Floor Rotunda for the exhibit grand opening with brief remarks, refreshments, and an overview of the museum's educational programming in conjunction with the exhibit to come this year.