Open Air Media Festival 2021: Drifting / Driftless
Open Air Media Festival 2021: Drifting / Driftless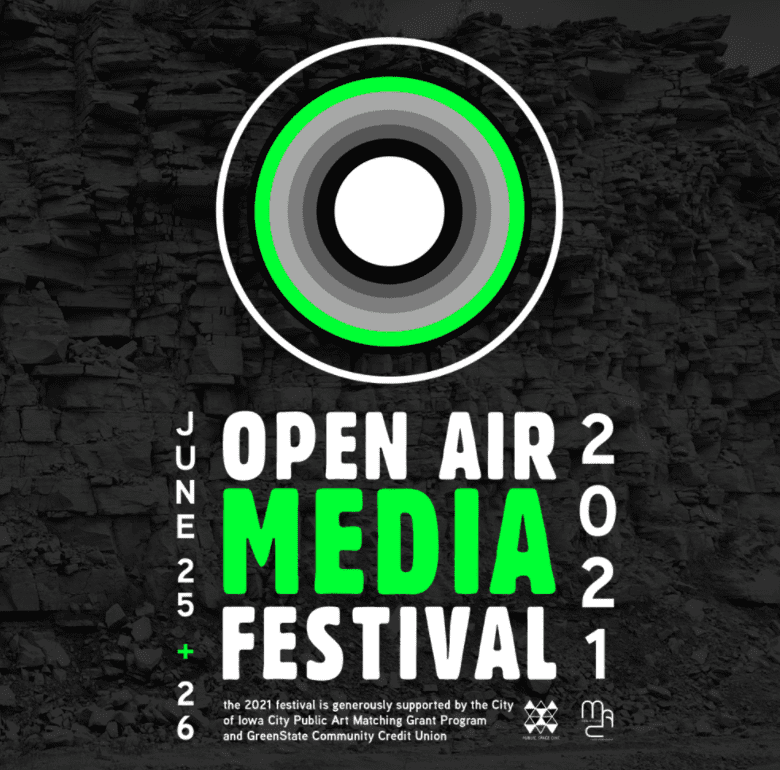 "ONE OF THE BASIC situationist practices is the dérive [literally: "drifting"], a technique of rapid passage through varied ambiances. Dérives involve playful-constructive behavior and awareness of psychogeographical effects, and are thus quite different from the classic notions of journey or stroll."
— "Theory of the Dérive." Guy Debord, Les Lèvres Nues #9 (November 1956) reprinted in Internationale Situationniste #2 (December 1958). Translated by Ken Knabb. Situationist International Online
In his essay, "Theory of the Dérive," French theorist, philosopher and filmmaker Guy Debord discusses urban landscapes as "psychogeographical" spaces or "centers of possibilities and meanings." His interpretation of the term "drifting" suggests we engage the landscape in which we live and work through intentional actions, as both an artist creating frameworks and as witness/participant in the role of audience.
The theme for Open Air Media Festival 2021, combines multiple interpretations of drifting and driftless. During a recent trip to the Driftless region of NE Iowa, I encountered the landforms of bedrock emerging from the landscape mosaic as ruptures, or glitches, that developed over significant time. The passage of time over the first year of living under the threat of a fast-moving virus, time has felt surreal, suspended and driftless as if in some kind of vortex. Drifting also references a technical glitch in video timecode when recordings begin in sync and slowly drift apart.
Open Air Media Festival participating artists will engage this theme to create site-specific, time-based works that will intervene several public spaces throughout Iowa City.  Through temporarily illuminating locations in new and imaginative ways, audiences will be invited into these time-based situations to be "drawn by the attractions of the terrain and the encounters they find there."
— Zen Cohen, Open Air Media Festival curator
Site-Specific Installations >
Kelly Clare & Will Yager > video & sound installation > PS1 courtyard
Jake Jacobs > Violence/Visibility > performance installation > upstairs Media Arts Co-op (MAC)
Aaron Longoria > video & sound installation + virtual VR showcase > exterior of Media Arts Co-op (MAC) & online
Philip Rabalais > video installation > back of PS1/parking lot
Stephanie Dowda DeMer
Walking Experiences >
The Parking Space > Chauncey Swan Parking Ramp, 415 E. Washington > https://www.stephaniemiracledances.com/the-parking-space.html
Milkweed Walk > Cicelia Ross-Gotta > various locations
Mobile Projection Program > video screenings in locations around Iowa City, schedule coming soon…
Luther Bangert, Paul Shumaker, Tristen Ives, Hao Zhou, Aaron Longoria, Stephanie Miracle, Donna Bummer & Tommy Santee Klaws
Bicycle Tours hosted by the Bike Library > registration & schedule coming soon…
KRUI Iowa City is proud to be working with Public Space One and the Media Arts Co-Op to amplify local art and music through community-based radio. The director board, made up of UIowa students, is thrilled to have experimental radio programming that contribute to KRUI as Iowa City's Sound Alternative. Tune into 89.7 FM or online at KRUI.fm to listen to the sounds of the Open-Air Festival!
In consideration of COVID-19: we ask that you follow the current Iowa City safety guidelines, maintain a mindful distance from others as well as our artists. The sonic component for each installation will be broadcast over KRUI radio station throughout the program, creating safe viewing opportunities from your vehicle—this will also be a bike friendly event!