Paint-a-Pumpkin Contest for Grades 1-6
Paint-a-Pumpkin Contest for Grades 1-6
October 3 @ 1:00 pm

-

2:00 pm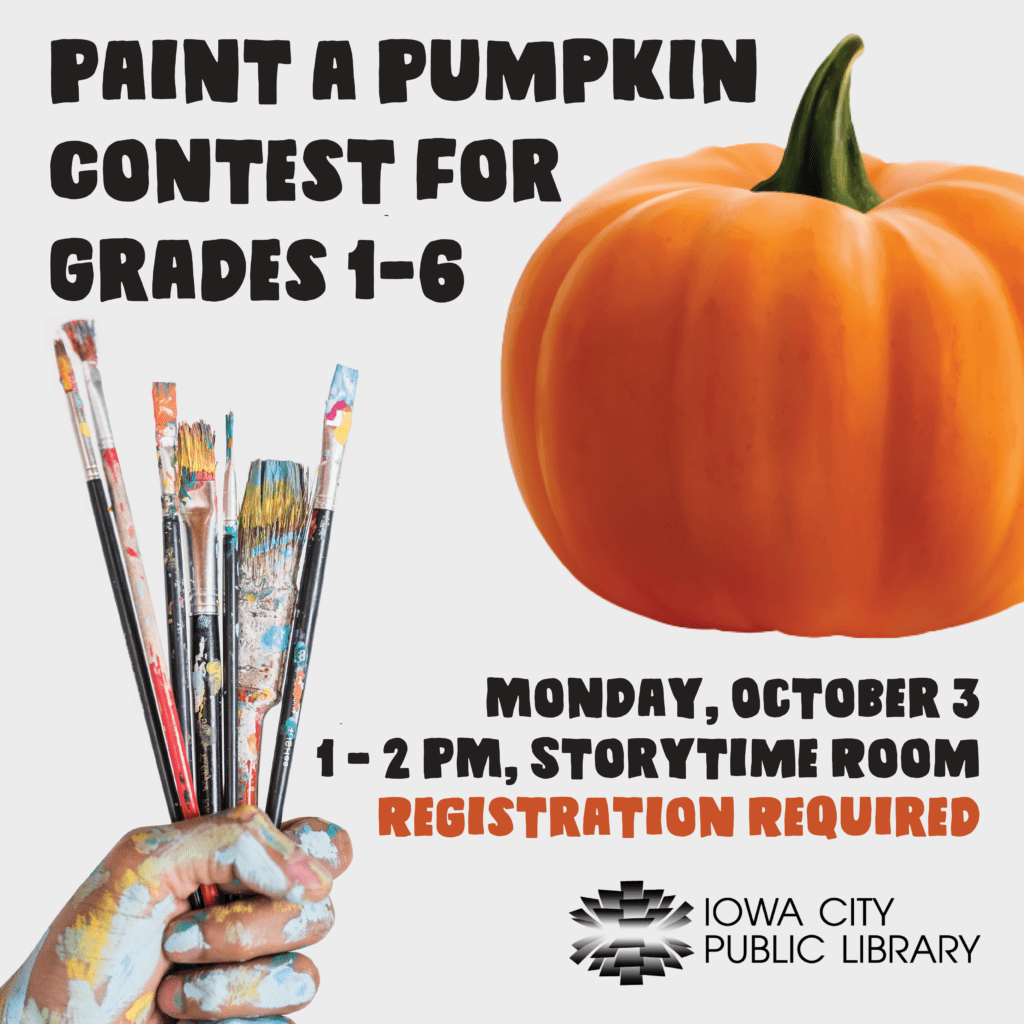 Monday, October 3, 2022 –1:00pm to 2:00pm
Kids in Grades 1-6 are invited to enter a Pumpkin Painting Contest right here at ICPL! Register to get a blank, medium-sized, pumpkin and access to all colors of acrylic paint. You'll be provided 60 minutes to complete your artistic pumpkin project. We recommend choosing a design idea in advance so you have the full amount of time to paint! Look online for inspiration, or try to recreate your favorite book or movie character, or design a scene–if you can imagine it you can try to paint it!
After the painting program, we will display submissions in the large display case you see on your way into the Children's Room until the last week of October. Patrons can vote on their favorite pumpkins through the month of October, and the three pumpkins with the most votes will win a prize! Families can pick up their pumpkins the last week of October (we will send a reminder) so that their works of art can be displayed for trick-or-treating!
Registration is required unless we have extra pumpkins on the day of and is limited to 1st through 6th grade with adult supervision required as well. Only one pumpkin per child will be distributed, and only 40 pumpkins total will be purchased as space allows in the case. Team submissions are allowed as well.
报名开始时间:9月23日上午8点
欢迎1-6 年级的同学们参加 ICPL 创意南瓜大赛!我们将为参赛者提供一个中等大小的南瓜,和丙烯酸颜料,请提前确定好您的设计创意并确保在 60 分钟内完成您的南瓜作品。你可以在网上寻找灵感,再创作您最喜欢的图书或电影角色,或者展开想象设计创作任意场景。
所有参赛作品 将在少儿部入口处的展柜内展出至10 月的最后一周。展出期间读者朋友们可投票选出他们最喜欢的南瓜,得票最多的三个南瓜作品将赢得奖项!10 月最后一周我们将提醒参赛家庭领取他们的南瓜作品回家作为万圣节活动装饰。
本次活动面向1-6年级同学,并需由大人监督。请点击以上链接报名。每位参赛者只可用一个南瓜,因展柜空间有限,限40人参与,允许以团队形式参赛。
¡Los niños en los grados 1-6 están invitados a participar en un concurso de pintura de calabazas aquí mismo en ICPL! Regístrese para obtener una calabaza en blanco de tamaño mediano y acceso a todos los colores de pintura acrílica y 60 minutos para completar su proyecto de calabaza. ¡Recomendamos elegir una idea de diseño con anticipación para que tenga todo el tiempo para pintar! Busque inspiración en línea, o intente recrear su libro o personaje de película favorito, o diseñe una escena. ¡Si puede imaginarlo, puede tratar de pintarlo!
Después del programa de pintura, exhibiremos las presentaciones en la vitrina grande que verá en su camino hacia la Sala de niños hasta la última semana de octubre. Los clientes pueden votar por sus calabazas favoritas durante el mes de octubre, ¡y las tres calabazas con más votos ganarán un premio! ¡Las familias pueden recoger sus calabazas la última semana de octubre (les enviaremos un recordatorio) para que sus obras de arte puedan exhibirse para pedir dulces!
Se requiere inscripción, pero si tengamos calabazas adicionales el día del evento y se limita a los grados 1 a 6. También se requiere la supervisión de un adulto. Solo se distribuirá una calabaza por niño, y solo se comprarán 40 calabazas en total según lo permita el espacio. Las presentaciones del equipo también están permitidas.
If you need disability-related accommodations in order to participate in this event, please contact the Library.
This event is open to the public.