Pamela Paul in conversation with Ann Patchett
Pamela Paul in conversation with Ann Patchett
November 3, 2021 @ 6:00 pm

-

8:00 pm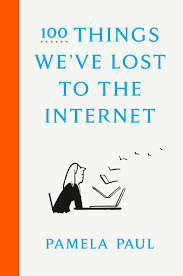 November 3, 2021 – 6:00pm
Parnassus Books Facebook Page
Prairie Lights, in partnership with Parnassus Books, is excited to welcome Pamela Paul to celebrate her new book, 100 Things We've Lost to the Internet, in conversation with Ann Patchett.
This is a virtual event which will take place on the Parnassus Books Facebook page Wednesday, November 3rd at 6:00pm CT.
In one hundred glimpses of that pre-Internet world, Pamela Paul, editor of The New York Times Book Review, presents a captivating record, enlivened with illustrations, of the world before cyberspace—from voicemails to blind dates to punctuation to civility. There are the small losses: postcards, the blessings of an adolescence largely spared of documentation, the Rolodex, and the genuine surprises at high school reunions. But there are larger repercussions, too: weaker memories, the inability to entertain oneself, and the utter demolition of privacy.
100 Things We've Lost to the Internet is at once an evocative swan song for a disappearing era and, perhaps, a guide to reclaiming just a little bit more of the world IRL.
Pamela Paul is the editor of The New York Times Book Review and oversees book coverage at the Times, where she hosts the weekly Book Review podcast. Her previous books include My Life with Bob; How to Raise a Reader; By the Book; Parenting, Inc.; Pornified; The Starter Marriage and the Future of Matrimony; and Rectangle Time, a book for children. Prior to joining The New York Times, she was a contributor to Time and The Economist, and her work has appeared in The Atlantic, The Washington Post, and Vogue.
Ann Patchett is the author of eight novels, The Patron Saint of Liars, Taft, The Magician's Assistant, Bel Canto, Run, State of Wonder, Commonwealth, and The Dutch House. She was the editor of Best American Short Stories, 2006, and has written three books of nonfiction, Truth & Beauty, about her friendship with the writer, Lucy Grealy, What now? an expansion of her graduation address at Sarah Lawrence College, and, This is the Story of a Happy Marriage, a collection of essays.