Parking Portal
January 14 @ 12:00 pm

-

3:00 pm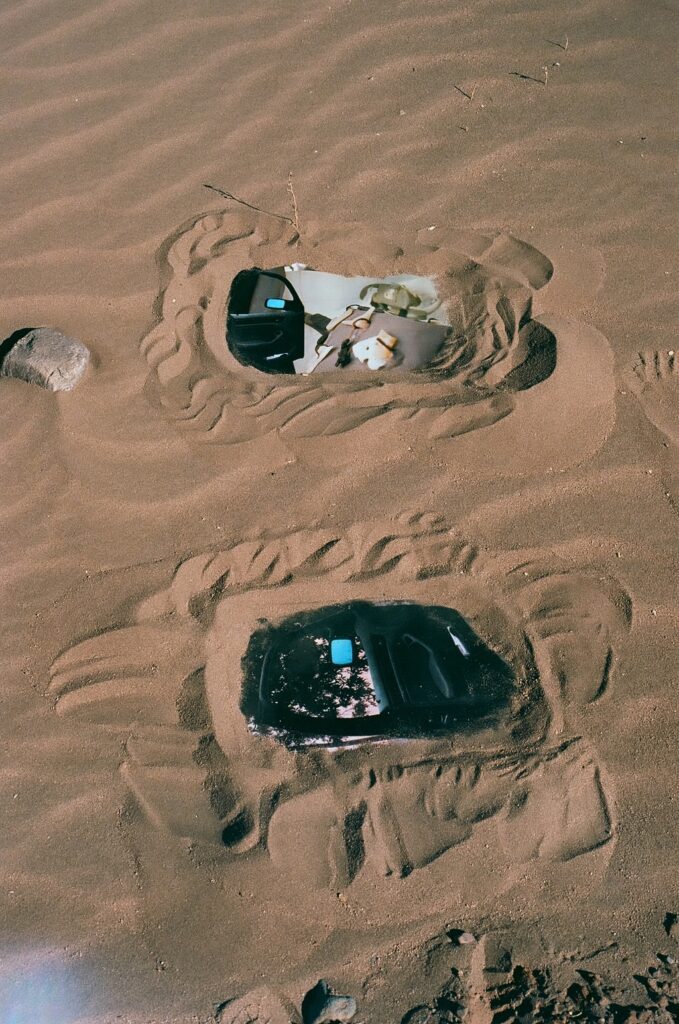 Hilary Nelson's exhibition, Parking Portal, opens at the PS1 North gallery (229 N. Gilbert) January 13th and will be on view until February 3rd, 2023. Join us in celebrating the opening of this exhibition on January 13, 4-6pm
Read on for a statement by artist Hilary Nelson:
My work is built from stuff that probably used to be other stuff. Now it looks like it could be something you think you know, but you just aren't sure. I think about the pieces like b-roll, or like a score to a movie – you listen and all the wonder and melodrama are halfway there. They are objects, but they gain from the presence of something else; they are whole by bringing in outside noise. They hold you in the place between knowing and known.
My process begins with collecting discarded or used materials as a way to enter the piece. This involves compulsively sourcing scraps and leftovers from industry and day to day consumption, or recycling parts of my own work (giving each of the pieces many lives). This working method underscores the transitory nature of the pieces, and substantiates a desire to question my inherent role as an artist in capitalism, consumption, and waste. The work explores the paradox implicit in the idea of something being finished. When does usefulness end? Consumption is an illusion: there is only continuum.
I've been working in driveways, car trunks, parking spots, porches. I have all the space in the world.
These places are in between, spaces to take you from one to the next.
This work tries to coexist, to be coherent, with the disturbance of being stuck in between. No entrance, no exit.
To be entangled with these spaces like double stars, weirdly overlapping and orienting to each other.
To be made continuous by things that are both container and passage.
These spaces are for transformation and transmission, they could be portals.
This work imagines what forms could exist in a portal, be consumed by a portal, get stuck in the portal.
We are in the portal, we R the portal.
What happens in all this stuck?
ABOUT THE ARTIST
Hilary Nelson received her MFA from the University of Iowa  School of Art and Art History. She had a recent solo exhibition at The Class of 1925 Gallery at The University of Wisconsin (Madison, WI) and has been included in recent group exhibitions at Taos Abstract Artist Collective (Taos, NM), Public Space One (Iowa City, IA), Collar Works (Troy, NY), Underground Flower & Rhizome Parking Garage (online), GHOST (online), and The Every Woman Biennial (Los Angeles, CA). In 2019 she was a resident at Yaddo and a resident and recipient of an artist grant at The Vermont Studio Center. Also in 2019, Nelson was given access to the collections at The Museum of International Folk Art (Santa Fe, NM) for extended research. From  2018-2021 she was Gallery Director and Curator for The Times Club Gallery in Prairie Lights Bookstore (Iowa City, IA). In 2022 Nelson was an artist in residence at La Wayaka Current Desert 23º (Atacama Desert, Chile), and in 2023 she will be an artist in residence at Buinho Residency (Messejana, Portugal). Also in 2023 she will be included in a group show at SOIL (Seattle, WA). Nelson is an Assistant Professor at Maharishi International University.
Instagram: @hilinelson
GALLERY HOURS
Visitors can experience the exhibition at 229 N. Gilbert during regular gallery hours:
Fri 4-6p and Sat 12-3p, or by appointment: gallery@publicspaceone.com