Prairie Lights Presents: Writers @ Grinnell
Prairie Lights Presents: Writers @ Grinnell
October 13, 2020 @ 7:00 pm

-

8:00 pm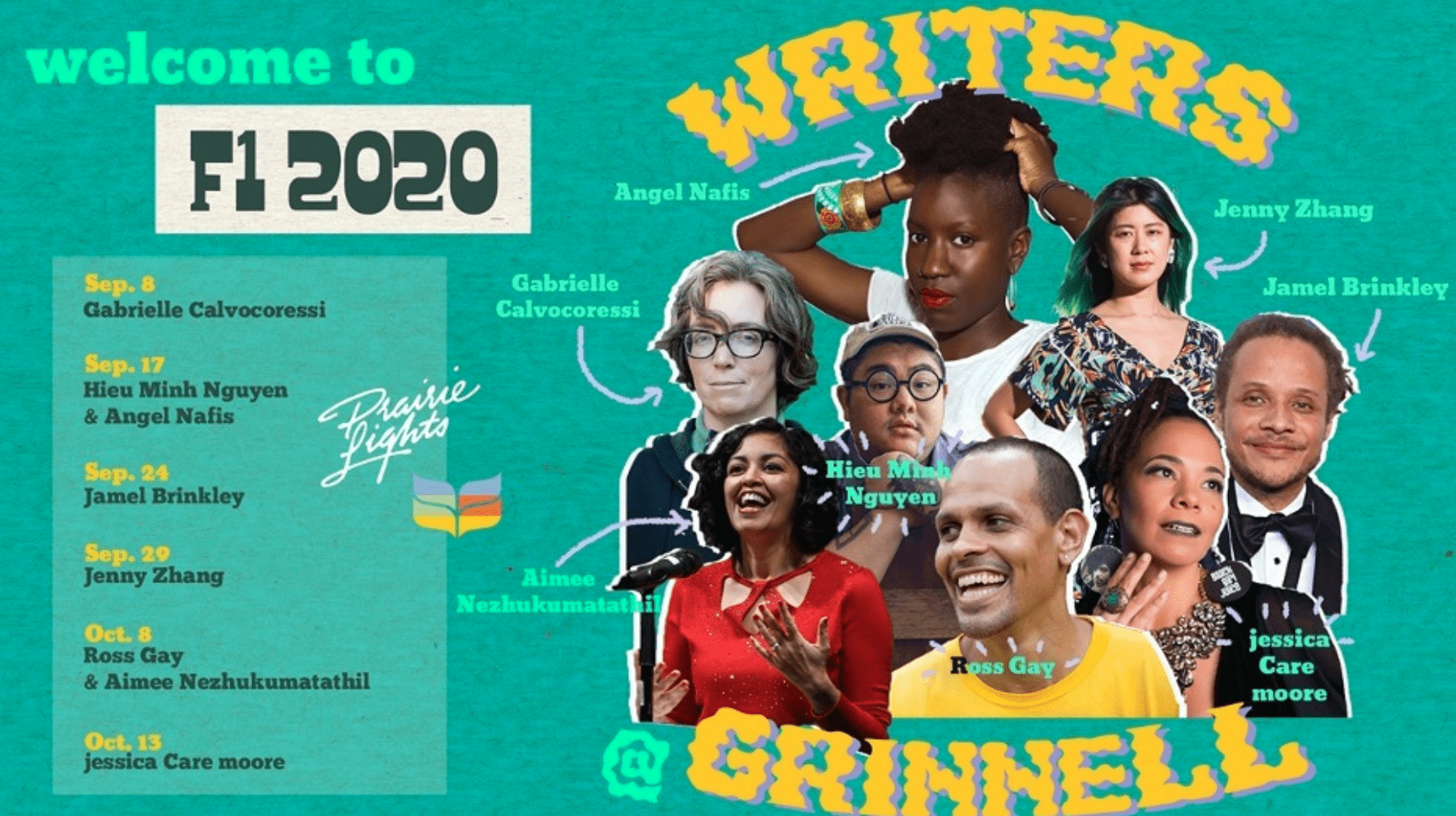 Join internationally renowned poet and performance artist jessica Care moore, artist-in-residence with the Writers @ Grinnell program, for a reading and discussion with Professor Lakesia Johnson.
For the link to access the event, register here.
jessica Care moore is the Executive Producer and Founder of the 16-year old rock & roll concert and empowerment weekend, Black WOMEN Rock! moore is a strong believer in institution building. and created Moore Black Press Publishing in 1997. moore began publishing her literary peers, including Saul Williams, asha bandele, Danny Simmons, and Newark Mayor and poet, Ras Baraka.
She is an educator and strong advocate for youth and women's voices.  She has been called by many, "The voice of Detroit."  She penned and voiced the award winning Detroit anthem, "Move Here, Move The World,"  NEIdeas, and voiced digital campaigns for The Skillman Foundation, The Henry Ford Museum, Strategic Community Partners, and many more.
moore is the author of The Words Don't Fit in My Mouth, The Alphabet Verses The Ghetto, God is Not an American, Sunlight Through Bullet Holes. (Moore Black Press) Her fifth book, We Want Our Bodies Back was published by Harper Collins in March. Her full scale theatrical work, Salt City, (An Afrofuturistic Techno Choreopoem) premiered in Detroit in 2019. She is the 2018 Joyce Award Winner, 2019 and 2017 Knight Arts Recipient, 2016 Kresge Art Fellow, The 2013 Alain Locke Awardee and the 2015 NAACP Great Expectation Award.
Your favorite's emcee's favorite poet, she has recorded her poetry with Nas, Jeezy, Talib Kweli, 9th Wonder, Karriem Riggins, Wordsworth, Elzhi, Valid, The Last Poets, Ursula Rucker, Jose James, Roy Ayers and more. She's read her work and leant her powerful voice to many causes all over the world, including, United Nations World Aids Day, Shanghai's Iron Mic Music Festival, Berlin International Poetry Festival, Flupp International Literary Festival in Brazil., and was honored to perform at the first Afrochella Festival in Ghana during the year of the return. Her work has graced the stages of The Apollo Theater, Carnegie Hall, Lincoln Center and the London Institute of Contemporary Arts. Her critically acclaimed jazz soul album, Black Tea – The Legend of Jessi James was released by  emcee, Talib Kweli's Javotti Media Label.
Moore recently joined forces with techno legends Jeff Mills and Eddie Fowlkes to form "The Beneficiaries." The Crystal City is Alive collaborative music project  is available now. The poet captivated a national television audience in the 90's when she won the legendary "It's Showtime at the Apollo" competition a record breaking five times in a row — with a poem. moore's poetry and voice is prominently featured on the 4th floor of the Smithsonian's New National Museum of African American History. She is a proud Detroiter and lives in the city where she raises her 13-year old son King.