R.A.P Ferreira
June 14 @ 7:00 pm

-

11:00 pm

$15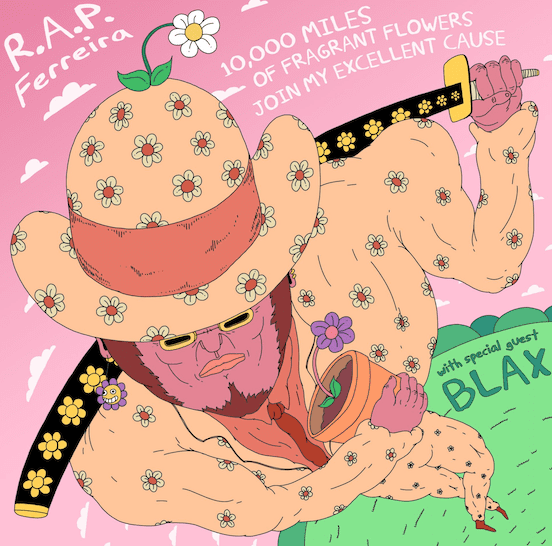 Signal Flow Productions Presents
R.A.P. Ferreira (formally known as MILO)
Blax
Soultru
Jim Swim
TICKETS ON SALE NOW!!
$15
Doors at 7pm
Music at 8pm
R.A.P. Ferreira fka milo aka scallops hotel is an mc, producer and theorist working in the Black arts tradition commonly categorized as rap. Having founded the label ruby yacht in 2015 and since releasing all of his music through this channel, Ferreira has earned a sizable following within independent hip hop by rigorous, constant touring and an elevated, explorational style of performance. He is known for an uncompromised, utopic flow that speaks directly to the root of the listener.
By 2018, the young artist galvanized his presence in the American rap scene with the opening of Soulfolks Records & Tapes in Biddeford, Maine. Ferreira has a sprawling, limitless catalog ranging years, names, geographies, intentions, collaborations, and vocabularies.
In an era defined by keyword search, soundbyte, cosign, marketing and virality this artist's work stands out by not cow tailing to the movements and trends of the digital sphere.
He currently makes his home in Nashville, Tennessee where he continues to helm the Ruby Yacht while studying to become a blues guitar legend.
BLAX
BLAX, emcee/singer/songwriter/producer from Milwaukee, WI has been paving his own lane since the early 2000's – establishing himself as one of the midwest's rising talents. After suffering the untimely loss of his son during the summer of 2018, BLAX stepped away from the scene to grieve, re-focus and reinvigorate.
Accomplishments have become the foundation and bedrock for BLAX. Having been featured in Fader magazine, The Source, Respect Magazine, The RapFest and many more – even being listed as the best Rap/hip Hop artist of 2018 by the Wisconsin Area Music Industry awards council.
BLAX has just recently released his latest full length album "Angeline" on Social Misfits/Next Records.
Soultru is a soul acoustic artist based out of the Davenport Iowa apart of the Quad Cities Iowa/Illinois. He is signed to Kansas City label The Record Machine. They sometimes travel with a full band and other times as a duo or solo (Terrance Banks). Drawing influence from gospel music artists like Fred Hammond and Smokie Norful. While later finding artists such as Gavin Degraw, Anthony Hamilton, John Legend and most recently Allen Stone and Samm Henshaw. He has had the pleasure of opening for artists such as Kweku Collins, Magic City Hippies, Michigan Rattlers, Neil Hilborn, Ceschi Ramos, Kaleb Mitchell and shared The Alder Theatre stage with Amythyst Kiah in June 2021. Soultru has been building momentum back up playing festivals such as Alternating Currents in the Quad Cities (2021), being added to Barrel and Flow Fest in Pittsburgh PA (2021), Lincoln Calling in Lincoln NE (2021) and Des Moines All Iowa artist Festival Gross Domestic Product (GDP) in 2022.
https://linktr.ee/soultru.music
 has everything for checking things out.
Artist/producer Jim Swim blends alternative hip-hop, indie soul, and bedroom pop to craft warm and wavy songs that move head and heart. Swim's songs unwind like good conversation, moving from the everyday to the abstract, the personal to the universal, with honest ease. His original beats, unique flow, and lyrical insight reward repeated listens and have won him an underground following that continues to grow.