Random Generator
March 4, 2022 @ 1:00 pm

-

6:00 pm

|

Recurring Event

(See all)

An event every week that begins at 1:00 pm on Monday, Tuesday, Wednesday, Thursday and Friday, repeating until March 12, 2022

An event every week that begins at 12:00 pm on Sunday and Saturday, repeating until March 12, 2022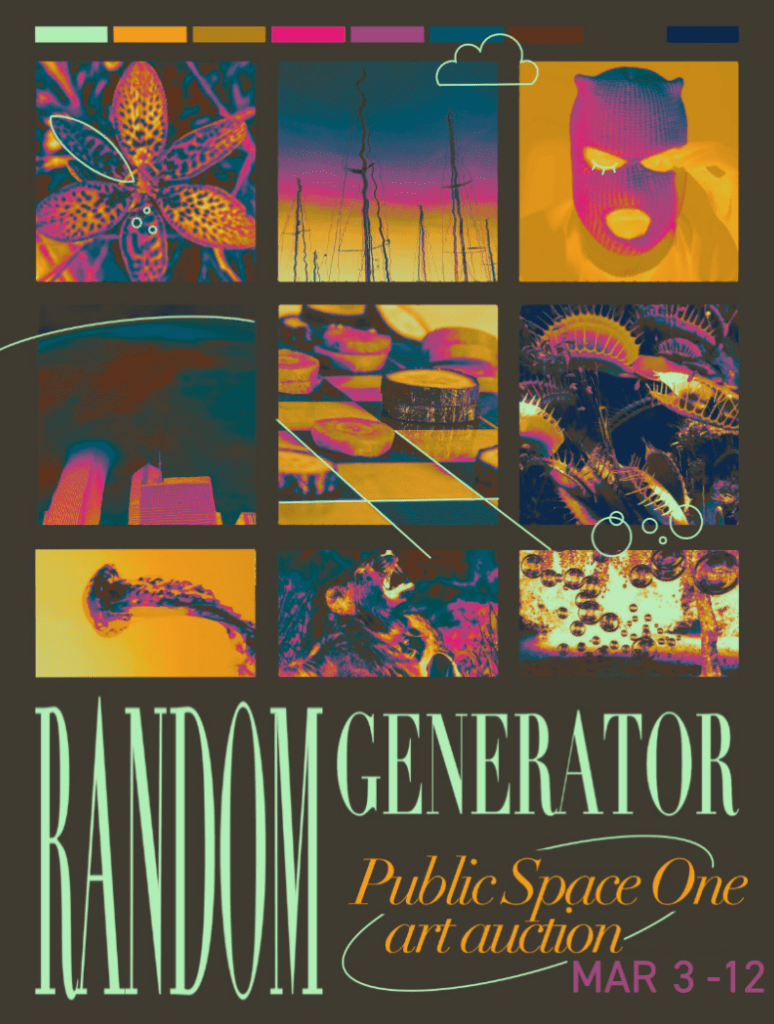 Iowa City, IA – March 1, 2022 — Public Space One (PS1) presents its annual art auction exhibition Random Generator, in the newest PS1 space, PS1 Close (538 S Gilbert St) gallery and website from March 3-12th. Bidding will go live online (publicspaceone.com/auction) on Thursday, March 3rd at 7p. The fundraiser auction will end on Saturday, March 12th when there will be a reception from 7-8p, complete with a live-streamed + in-studio audience celebratory end program.
Auction website: http://www.publicspaceone.com/events/random-generator
Generated from a (less than random) cross-section of eastern-Iowa or tangential artists, 80+ exquisitely distinct art objects have been gathered for redistribution to the public in an effort to support PS1's gallery programming for another year. Join us this week as we open Random Generator, for in person viewing and online bidding. Buying an artwork will not only support PS1 and our contributing artists, but certainly bring happiness, world peace, or at least a vibrant, new edition to your home.
This year's auction has something for everyone, from large scale paintings to intimate assemblages (and all points, media, and genre in between).
Auction proceeds will support Public Space One's daily art programming and operations, including exhibitions, performances, residencies, and resources for artists and art-making. The benefit will also support renovations to PS1's gallery space, elevating our environment for contemporary art in downtown Iowa City. New this year is a raffle with contributions from Trumpet Blossom, White Rabbit, Willow & Stock, RSVP, Home Ec., Femmedecks, and a handful of other ICDD businesses.
Gallery hours for viewing the work (all bidding takes place online from 7p on March 3 until 8p on Sat, March 12th):
Mon-Fri  1-6p

Sat/Sun 12-3

Closing: Sat, Mar 12 6-8p (livestream 7-8)
Participating artists include:
Aaron Moseley [w/ig] • Amber Morris [ig] • Ariane Parkes-Perret [ig] • Aunna Escobedo [w] • Benito Zamora [ig] • Brooke Dearborn Huston [w/ig] • Caitlin Wilson [fb] • Catherine Reinhart [w/ig] • Claire Whitehurst [w/ig]• Cory Christiansen [w] • Dana Potter [w/ig] • Dana Telsrow [w/ig] • Dani Sigler [w/ig] • Daniel Smith [w] • Dave Dugan [ig] • David Dunlap • Desiree Dahl [w/ig] • Devlin Caldwell [w/ig] • Donté K. Hayes [w/ig] • Dorian Dean [w/ig] • Douglas Degges [w/ig] • Drew Cameron [w]• Elizabeth Munger [w/ig] • Emily Magnuson [w] • Good Evening Gumm [w] • Gyan Shrosbree [w/ig] • Hannah Givler [w/ig] • Heather Parrish [w] • Hope Spragg [ig] • Ian Huebert [w] • India Johnson [w/ig] • Jamin Shepherd [w/ig] • Jan Duschen [ig] • Jane Gilmor [w] • Janiece Maddox [ig] • Jay Schleidt [w/ig] • Jenna Bonistalli [w/ig] • Jenny Gringer [w] • Jeremy Chen [w] • Jey Fox Houston • Jim Shrosbree [w] • John-Thomas Richard [w] • Johnny Brian [w/ig] • Jose Clemente [w] • Julia J. Wolfe [w/ig] • Julie Leonard [ig] • Kasey Bullerman [w] • Kelly Clare [w/ig] • Kelly Moore [ig] • Ken Dubin [w] • Lachlan Hinwood [w/ig] • Laura Napier [w/ig] • Laurie Zaiger • Lilah Shepherd [w/ig] • Mackie Garrett [ig] • Margaret Yapp [w/ig] • Maria Renna [ig] • Mariana Rodriguez Dal Pra [ig] • Mustard-In-Law [w/ig] • Nancy Footner • Nicholas Cladis [w/ig] • R.C. Tibbott [w] • Rachel Cox [w/ig] • Raluca Iancu [w/ig] • Ramin Roshandel [ig] • Rich Dana [w/ig] • Ryan Bentzinger [w/ig] • Sally Chai [ig] • Sammi [w/ig] • Sayuri Sasaki Hemann [ig] • Sean Tyler [ig] • Starfangled Press [w/ig] • Sue Hettmansperger [w] • Susan C White [w/ig] • Taylor Yocom [w/ig] • Terry Conrad • Thomas Agran [w] • Tibi Chelcea [w/ig] • Trevon Jakaar Coleman [w/ig] • Tyler Luetkehans [ig] • Vikas Garg [ig]