ROCK METAL Rampage @Iowa City Yacht Club
ROCK METAL Rampage @Iowa City Yacht Club
February 22, 2020 @ 8:00 pm

-

11:00 pm

$7 – $10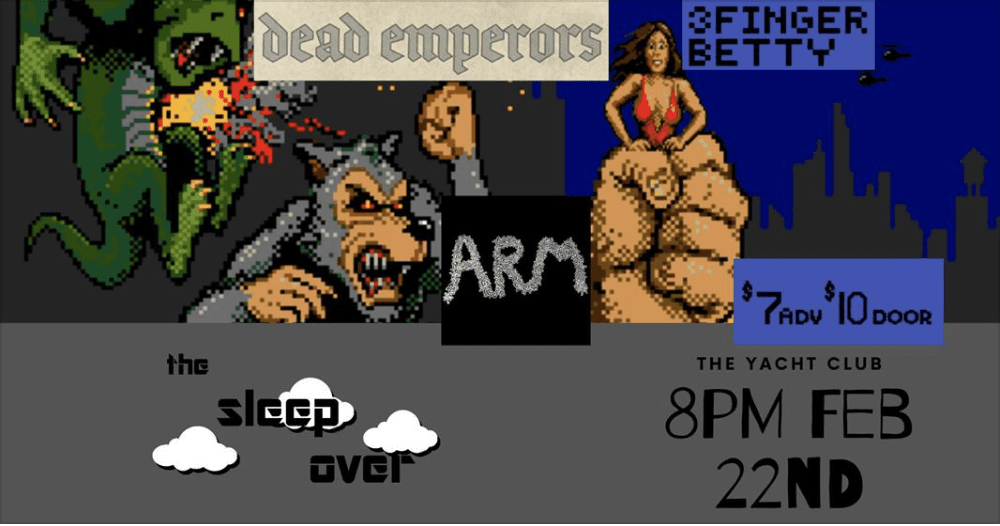 Gather at the Yatch Club for a night of full of rock and metal.
3 Finger Betty is the real deal. There is no 5 finger discount from these in your face Des Moines Punk Rockers.
The Sleepover – You promised your mom no boys but invited them anyway. These Des Moines post-rock punks do not seek your parents approval.
A.R.M. – Away Rots Man is a thrash attack you'll welcome back as these Iowa City metal maniacs leave you in pieces.
Dead Emperors will release the hounds tonight. Look no further but heed their call. These Iowa City metal monsters are here to bark at the moon.
Band order:
8p ARM
845p Sleepover
930p 3 Finger Betty
1015p Dead Emperors
Featured on the curated Spotify playlist ListenICFebruary2020 by the Iowa City Nighttime Mayor