Sarah Fay in conversation with Jen Percy
Sarah Fay in conversation with Jen Percy
April 12, 2022 @ 7:00 pm

-

9:00 pm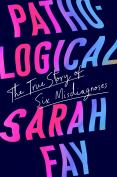 Prairie Lights Virtual – Zoom
Please join us for a reading and conversation with Sarah Fay to celebrate the release of her new book Pathological: The True Story of Six Misdiagnoses. She will be joined in conversation with Jen Percy.
To join this virtual event, register here.
Anthony Swofford, International and New York Times bestselling author of Jarhead, says of the book "Pathological is the best book I've read in many years. Masterfully written, distinctively researched, and deeply humane, it joins our finest literature on medicine and psychiatry and the eternal riddle we call our minds. Fay's artful work is pleasingly unclassifiable: call it medical memoir; mental health thriller; comic punctuation primer; DSM and Big Pharma smackdown. I'll just call it genius. It's also contrarian, controversial, and beautifully, validly angry. If you or anyone you love has spent time in the mental health industrial complex (or, cauldron)—buy this book now and read it."
Sarah Fay is an author and activist. Her writing appears in many publications, including Longreads, The New York Times, The Atlantic, Time Magazine, The New Republic, McSweeney's, The Believer, and The Paris Review, where she served as an advisory editor. She's the recipient of the Hopwood Award for Literature, as well as grants and fellowships from Yaddo, the Mellon Foundation, and the MacDowell Colony, among others. She's the founder of Pathological: The Movement (www.pathological.us.), a public awareness campaign devoted to making people aware of the unreliability and invalidity of DSM diagnoses and the dangers of identifying with an unproven mental illness. For more, visit www.sarahfay.org.
Jen Percy is a graduate of the Iowa Writers' Workshop, where she received a Truman Capote Fellowship in fiction. She also received an Iowa Arts Fellowship from Iowa's Nonfiction Writing Program. Winner of a Pushcart Prize and a grant from the National Endowment for the Arts, her work has appeared in a number of magazines, including Harper's, The New Republic, and The Oxford American. She teaches writing at New York University.