SRP Kids: Drum Safari
July 14 @ 10:30 am

-

2:00 pm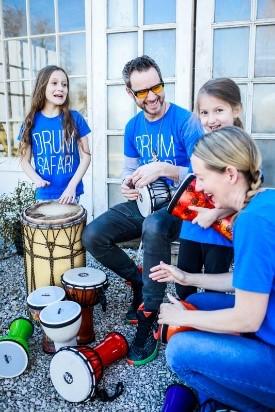 Thursday, July 14, 2022 –10:30am to 11:30am
Meeting Room A, Meeting Room B, Meeting Room C
Join us today for fun World music to get your feet moving and body grooving! During this high-energy, interactive performance, children are invited to join a musical "safari" with a Kansas City based drumming family, Drum Safari! Explore folk traditions of West Africa, East Africa, Turkey, Cuba, Brazil, and American jazz. Hand percussion instruments are provided for all participants. This program includes interactive songs, dancing, and, of course, DRUMMING!
—
¡Únase a nosotros hoy para disfrutar de música mundial divertida para que sus pies se muevan y su cuerpo se mueva! Durante esta actuación interactiva de alta energía, los niños están invitados a unirse a un "safari" musical con una familia de tambores de Kansas City, ¡Drum Safari! Explore las tradiciones populares de África Occidental, África Oriental, Turquía, Cuba, Brasil y el jazz. Se proporcionan instrumentos de percusión de mano para todos los participantes. Este programa incluye canciones interactivas, baile y, por supuesto, ¡TAMBORES!
和我们一起感受精彩的世界音乐。让您的双脚动起来,让身体动起来!这是一场充满活力的互动表演,来自堪萨斯城的鼓乐家庭 Drum Safari邀请孩子们 一起参加今天的音乐欢乐园!他们将为所有参与者提供手持打击乐器,一起探索西非、东非、土耳其、古巴、巴西和美国爵士乐等各种音乐传统。来一起歌唱,舞蹈,当然还有击鼓吧!
If you need disability-related accommodations in order to participate in this event, please contact the Library.
This event is open to the public.