SRP Kids: ISU Insect Zoo
July 7 @ 10:30 am

-

2:00 pm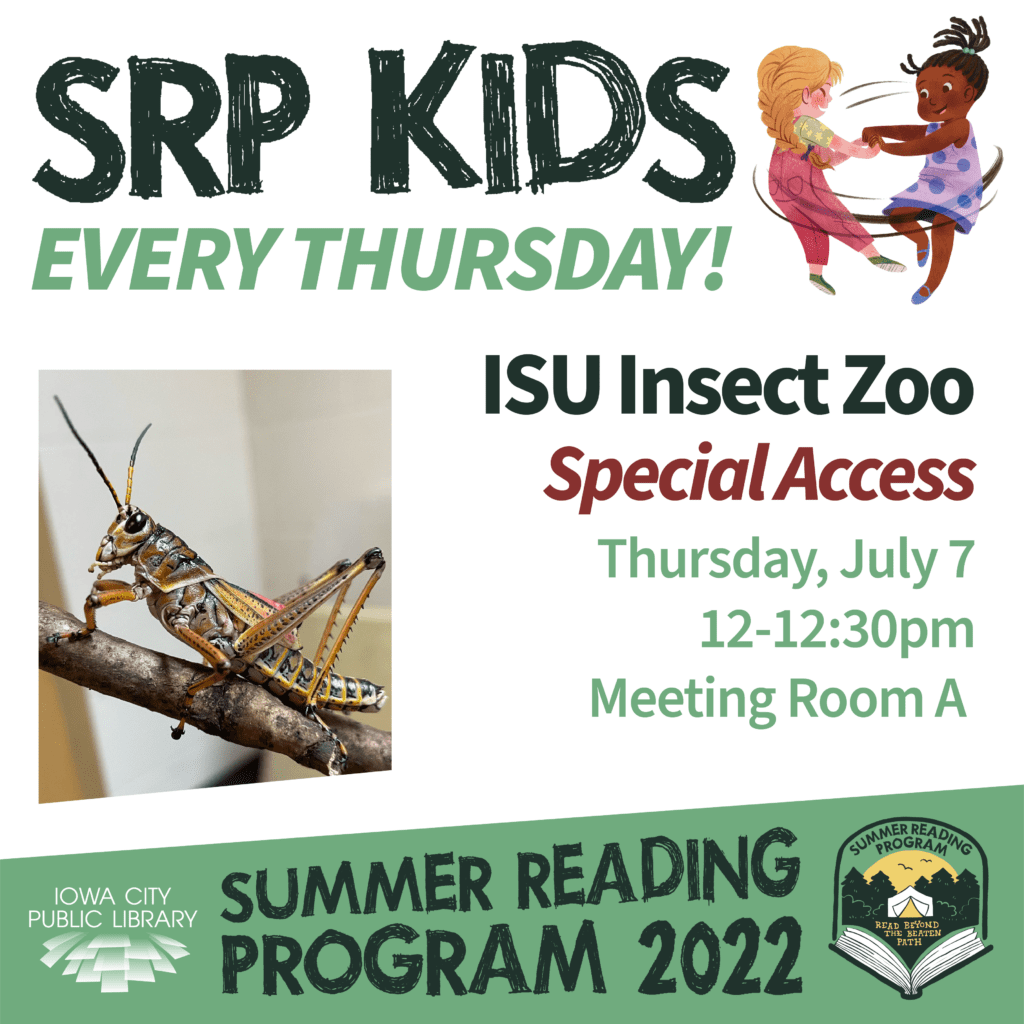 Thursday, July 7, 2022 –10:30am to 11:30am
Meeting Room A, Meeting Room B, Meeting Room C
The Iowa State University's Insect Zoo is bringing some of their fascinating bugs to the library! Drop in anytime between 10:30-11:30am or between 1pm to 2pm to hold and see more than 100 species of LIVE insects. All ages welcome! Knowledgeable Insect Zoo staff will talk about the animals on display and help you handle millipedes, beetles, walking sticks and more!
—
¡El Zoológico de Insectos de la Universidad Estatal de Iowa está trayendo algunos de sus fascinantes insectos a la biblioteca! Visítenos en cualquier momento entre las 10:30 y las 11:30 a. m. o entre la 1 p. m. y las 2 p. m. para sostener y ver más de 100 especies de insectos VIVOS. ¡Todas las edades son bienvenidas! ¡El personal experto de Insect Zoo hablará sobre los animales en exhibición y lo ayudará a manejar milpiés, escarabajos, y más!
爱荷华州立大学昆虫馆将带来奇妙的昆虫展览!今天上午 10:30 至 11:30 或下午 1 至 2 点,您可以前往参观 100 多个不同种类的昆虫。欢迎所有年龄段的参与者!知识渊博的昆虫馆工作人员将为我们讲解并带我们触摸千足虫、甲虫、手杖等昆虫!
If you need disability-related accommodations in order to participate in this event, please contact the Library.
This event is open to the public.