Sunday Fun Day: Found in Nature Pinch Pots
Sunday Fun Day: Found in Nature Pinch Pots
June 12, 2022 @ 1:00 pm

-

4:00 pm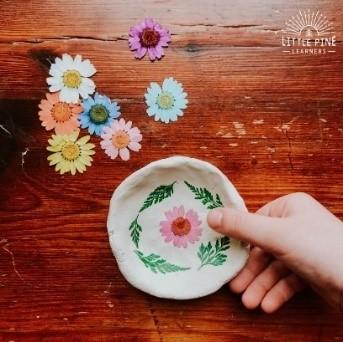 Sunday, June 12, 2022 –1:00pm to 4:00pm
This summer on Sundays we will go off the beaten path and create nature based and classic camp crafts! Join us on Sunday afternoons from 1-4pm in the Storytime Room.
Today we'll use air dry clay and petals, leaves and other items found in nature to make your own beautiful and unique pinch pot. After you make it, take it home and let it dry for several hours to let it stabilize, then use it as a home for trinkets. Feel free to bring your own nature items, or else we will have items available.
—
¡Este verano, los domingos saldremos de los caminos trillados y crearemos artesanías de campamento clásicas y basadas en la naturaleza! Únase a nosotros los domingos por la tarde de 1 a 4 p. m. en la sala Storytime.
Hoy usaremos arcilla seca al aire y pétalos, hojas y otros elementos que se encuentran en la naturaleza para hacer su propia maceta hermosa y única. Después de hacerlo, llévelo a casa y déjelo secar durante varias horas para que se estabilice, luego utilícelo como hogar para diferentes cosas. Siéntase libre de traer sus propios artículos de la naturaleza, o de lo contrario tendremos artículos disponibles.
这个暑假的星期天手工坊活动我们将走进自然,创作各种经典有趣的野营主题工艺品。欢迎每周日下午 1 点至 4 点加入我们!
今天我们将使用粘土和来自大自然的花瓣、树叶等材料来捏制一个独特的小碗。做好后,把它带回家风干几个小时,完成后可以用来装一些小饰品。我们将提供各种材料, 您也可以带来您自己喜欢的自然物品。
If you need disability-related accommodations in order to participate in this event, please contact the Library.
This event is open to the public.