Sunday Fun Day: Gee's Bend Quilts
Sunday Fun Day: Gee's Bend Quilts
February 26 @ 1:00 pm

-

4:00 pm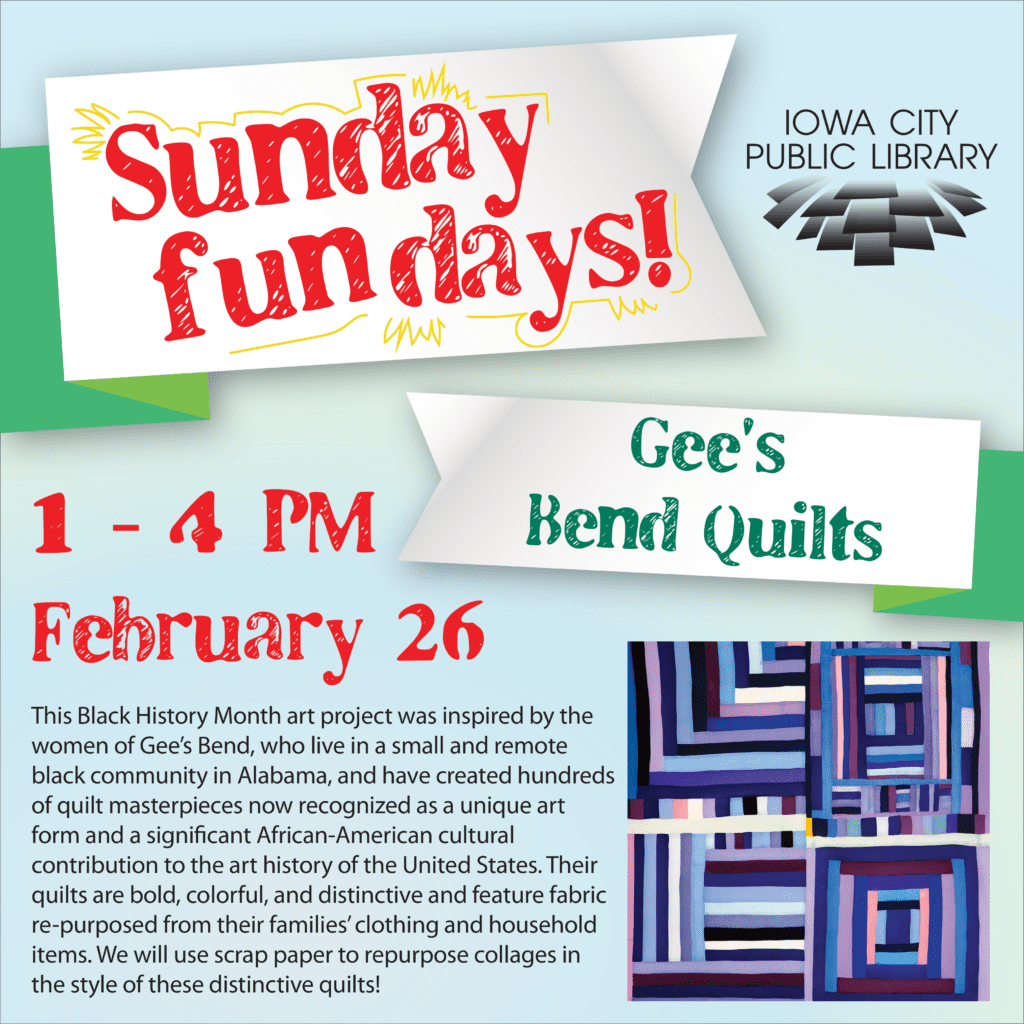 Sunday, February 26, 2023 –1:00pm to 4:00pm
This Black History Month art project was inspired by the women of Gee's Bend, who live in a small and remote black community in Alabama, and have created hundreds of quilt masterpieces now recognized as a unique art form and a significant African-American cultural contribution to the art history of the United States. Their quilts are bold, colorful, and distinctive and feature fabric re-purposed from their families' clothing and household items. We will use scrap paper to repurpose collages in the style of these distinctive quilts!
—
Este proyecto de arte del Black History Month fue inspirado por las mujeres de Gee's Bend, que viven en una comunidad pequeña y remota en Alabama, y ​​han creado cientos de obras maestras de edredones ahora reconocidas como una forma de arte única y una importante contribución cultural afroamericana a la historia del arte de los Estados Unidos. Sus edredones son coloridos y distintivos y cuentan con telas reutilizadas de la ropa y los artículos para el hogar de sus familias. ¡Usaremos papel de desecho para reutilizar collages al estilo de estos edredones distintivos!
今天的黑人历史月创作活动的灵感来自 Gee's Bend 的织被女,她们生活在阿拉巴马州一个偏远狭小的黑人社区,制作了成百上千的被子,她们的作品现在被公认为一种独特的艺术形式,作为非裔美国人的文化传统对美国艺术史做出了重要的贡献。他们的被子创意鲜明、色彩鲜艳、与众不同,很多的面料都来自于家居服装和用品的回收材料。今天我们也将使用回收废纸仿照她们独特的被子风格创作拼贴画!
.
.
If you need disability-related accommodations in order to participate in this event, please contact the Library.
This event is open to the public.