Sunday Fun Day: Love is Love Rainbow Heart Suncatchers
Sunday Fun Day: Love is Love Rainbow Heart Suncatchers
June 19 @ 1:00 pm

-

4:00 pm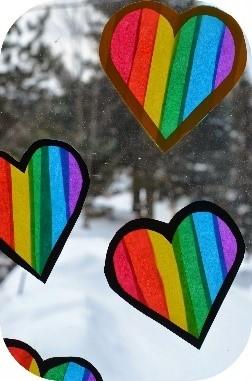 Sunday, June 19, 2022 –1:00pm to 4:00pm
This summer on Sundays we will go off the beaten path and create nature based and classic camp crafts! Join us on Sunday afternoons from 1-4pm in the Storytime Room.
The rainbow flag is a symbol of welcome for the LGBTQ+ community, with each color representing a component of the community. Show your Pride and make a colorful suncatcher heart to brighten up your window!
—
¡Este verano, los domingos saldremos de los caminos trillados y crearemos artesanías de campamento clásicas y basadas en la naturaleza! Únase a nosotros los domingos por la tarde de 1 a 4 p. m. en la sala Storytime.
La bandera del arcoíris es un símbolo de bienvenida para la comunidad LGBTQ+, y cada color representa un componente de la comunidad. ¡Muestre su orgullo y haga un colorido corazón atrapasol para decorar su ventana!
这个暑假的星期天手工坊活动我们将走进自然,创作各种经典有趣的野营主题工艺品。欢迎每周日下午 1 点至 4 点加入我们!
彩虹旗是欢迎 LGBTQ+ 社区的象征,每种颜色代表社区的一个组成部分。展现你的骄傲,制作一个色彩缤纷的阳光心,照亮你的窗棂!
If you need disability-related accommodations in order to participate in this event, please contact the Library.
This event is open to the public.