Sunday Fun Day: Love is Love Rainbow Heart Suncatchers
Sunday Fun Day: Love is Love Rainbow Heart Suncatchers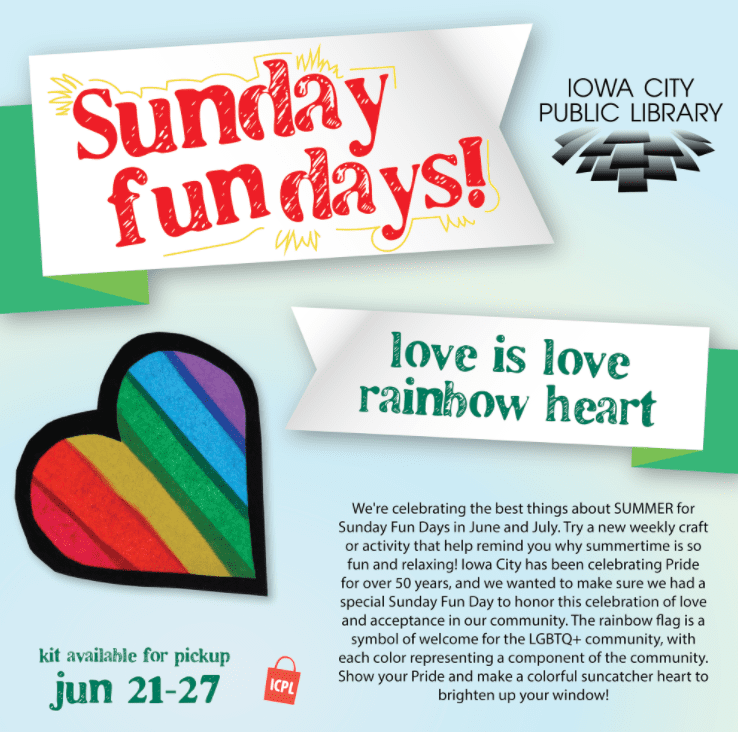 Kit available for pickup Jun 21 – 27, 2021
We're celebrating the best things about SUMMER for Sunday Fun Days in June and July. Try a new weekly craft or activity that help remind you why summertime is so fun and relaxing! Iowa City has been celebrating Pride for over 50 years, and while "Pride is more than June, it is something we can celebrate every day," we wanted to make sure we had a special Sunday Fun Day to honor this celebration of love and acceptance in our community. The rainbow flag is a symbol of welcome for the LGBTQ+ community, with each color representing a component of the community. Show your Pride and make a colorful suncatcher heart to brighten up your window!
Limit to one kit per child in a household. A new craft kit will be offered to be picked up at the library every Monday and be available until Sunday or as supplies last, so check out the calendar for new crafts weekly!
This event is open to the public.