Sunday Fun Day: Painted Moon
Sunday Fun Day: Painted Moon
March 12 @ 1:00 pm

-

4:00 pm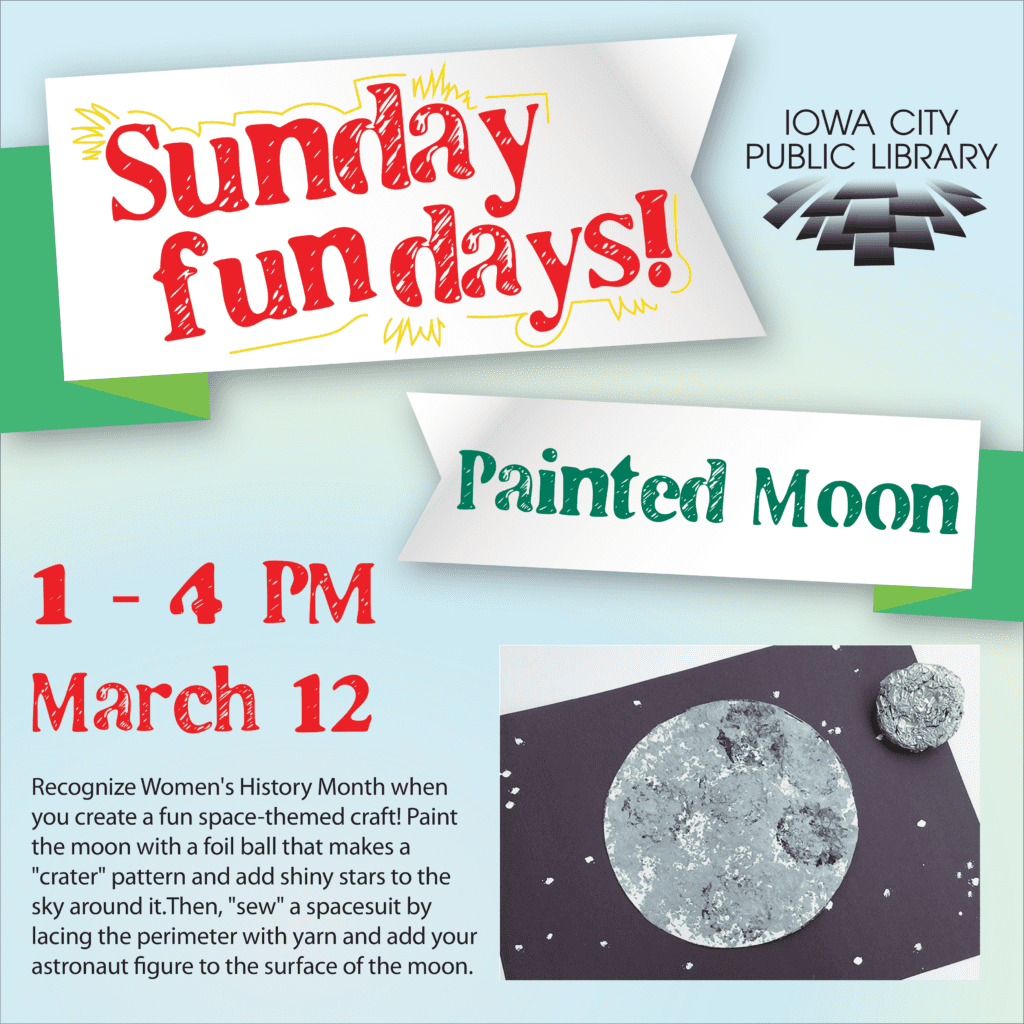 Sunday, March 12, 2023 –1:00pm to 4:00pm
Recognize Women's History Month when you create a fun space-themed craft!
Paint the moon with a foil ball that makes a "crater" pattern and add shiny stars to the sky around it. Did you know there is a real moon crater named "Poppy" after the first female engineer in NASA's Mission Control? Then, "sew" a spacesuit by lacing the perimeter with yarn and add your astronaut figure to the surface of the moon – just like Ellie Foraker, a seamstress who designed and sewed the Apollo 11 spacesuits.
Women have been instrumental in the history of the space program, from Katherine Johnson's algebraic calculations and Margaret Hamilton's computer code that made the first moon landing possible in 1969 to the first all-woman spacewalk in 2019 and Tiera Fletcher's ongoing engineering and design of the system that will send people to Mars.
—
本周以太空主题的手工活动来庆祝妇女历史月!女性在航空史上发挥了重要作用,凯瑟琳·约翰逊的代数计算和玛格丽特·汉密尔顿的计算机编码使得 1969 年首次登月成为现实,2019 年实现首次全女性太空行走,还有蒂拉·弗莱彻正在进行的系统工程将能把人类送上火星。
让我们在一张球形的铝箔纸上画出月亮和"火山口"图案,并在周围的天空中点缀闪亮的星星。你知道吗?月球上有一个真正陨石坑"Poppy",是以美国宇航局任务控制中心第一位女工程师的名字命名的。然后,我们将向设计制作阿波罗 11 号宇航服的女服装师Ellie Foraker 学习,用毛线做出宇航服的轮廓放在月球表面上。
¡Reconoce el Mes de la Historia de la Mujer cuando creas un proyecto de arte divertido con un tema espacial!
Pinte la luna con una bola de aluminio que haga un patrón de "cráter" y agregue estrellas brillantes al cielo a su alrededor. ¿Sabías que hay un cráter lunar real llamado "Poppy" en honor a la primera mujer ingeniera en el Control de la Misión de la NASA? Luego, "cose" un traje espacial atando el perímetro con hilo y agrega tu figura de astronauta a la superficie de la luna, al igual que Ellie Foraker, una costurera que diseñó y cosió los trajes espaciales del Apolo 11.
Las mujeres han sido fundamentales en la historia del programa espacial, desde los cálculos algebraicos de Katherine Johnson y el código de computadora de Margaret Hamilton que hizo posible el primer alunizaje en 1969 hasta la primera caminata espacial de mujeres en 2019 y la ingeniería y el diseño continuos del sistema de Tiera Fletcher. que enviará gente a Marte.
If you need disability-related accommodations in order to participate in this event, please contact the Library.
This event is open to the public.