Sunday Fun Day: Painted Rocks
Sunday Fun Day: Painted Rocks
July 3 @ 1:00 pm

-

4:00 pm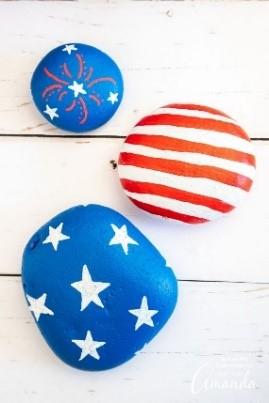 Sunday, July 3, 2022 –1:00pm to 4:00pm
This summer on Sundays we will go off the beaten path and create nature based and classic camp crafts! Join us on Sunday afternoons from 1-4pm in the Storytime Room.
Create custom painted rocks using paint pens and paint that pop like fireworks. Follow a 4th of July theme, or your favorite things of summer, or whatever you'd like, as long as you can as you can paint it or draw it on a rock. Stash the rock in a secret place like a kindness rock, or give it a home in your room or garden!
这个暑假的星期天手工坊活动我们将走进自然,创作各种经典有趣的野营主题工艺品。欢迎每周日下午 1 点至 4 点加入我们!
今天的活动我们将创作特别的手绘石,可以选独立日主题或是任意你喜欢的夏日主题,你都可以用油漆或笔把它画在石头上。将你的作品藏在一个秘密的地方,或者就在你的房间或花园里给它安一个家!
—
¡Este verano, los domingos saldremos de los caminos trillados y crearemos artesanías de campamento clásicas y basadas en la naturaleza! Únase a nosotros los domingos por la tarde de 1 a 4 p. m. en la sala Storytime.
Crea rocas pintadas personalizadas con pintura. Sigue un tema del 4 de julio, o tus cosas favoritas del verano, o lo que quieras, siempre que puedas pintarlo o dibujarlo en una roca. ¡Guarda la roca en un lugar secreto, o dale un hogar en tu habitación o jardín!
If you need disability-related accommodations in order to participate in this event, please contact the Library.
This event is open to the public.