Sunday Fun Day: Rainbow Collages
Sunday Fun Day: Rainbow Collages
June 26 @ 1:00 pm

-

4:00 pm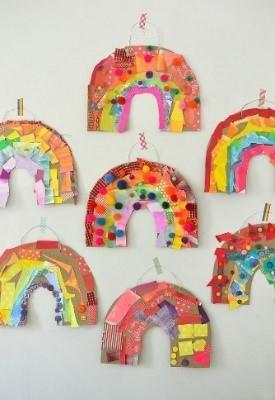 Sunday, June 26, 2022 –1:00pm to 4:00pm
This summer on Sundays we will go off the beaten path and create nature based and classic camp crafts! Join us on Sunday afternoons from 1-4pm in the Storytime Room.
Use all of the colors of the rainbow to add some creativity to your weekend and show Pride! Today we're creating unique rainbow collages with colorful scraps of paper and other fun art supplies!
—
¡Este verano, los domingos saldremos de los caminos trillados y crearemos artesanías de campamento clásicas y basadas en la naturaleza! Únase a nosotros los domingos por la tarde de 1 a 4 p. m. en la sala Storytime.
¡Use todos los colores del arcoíris para agregar un poco de creatividad a su fin de semana y muestre Orgullo! ¡Hoy estamos creando collages de arcoíris únicos con pedacitos de papel de diferentes colores y otros materiales de arte divertidos!
这个暑假的星期天手工坊活动我们将走进自然,创作各种经典有趣的野营主题工艺品。欢迎每周日下午 1 点至 4 点加入我们!
让五颜六色的彩虹的为你的周末增加一些创造性,展现你的骄傲!今天我们将用各种颜色和形状的碎纸片和其他有趣的工艺材料来制作独特的彩虹拼贴画!
If you need disability-related accommodations in order to participate in this event, please contact the Library.
This event is open to the public.