Sunday Funday: Eric Carle's Collage Stars
Sunday Funday: Eric Carle's Collage Stars
September 18 @ 1:00 pm

-

4:00 pm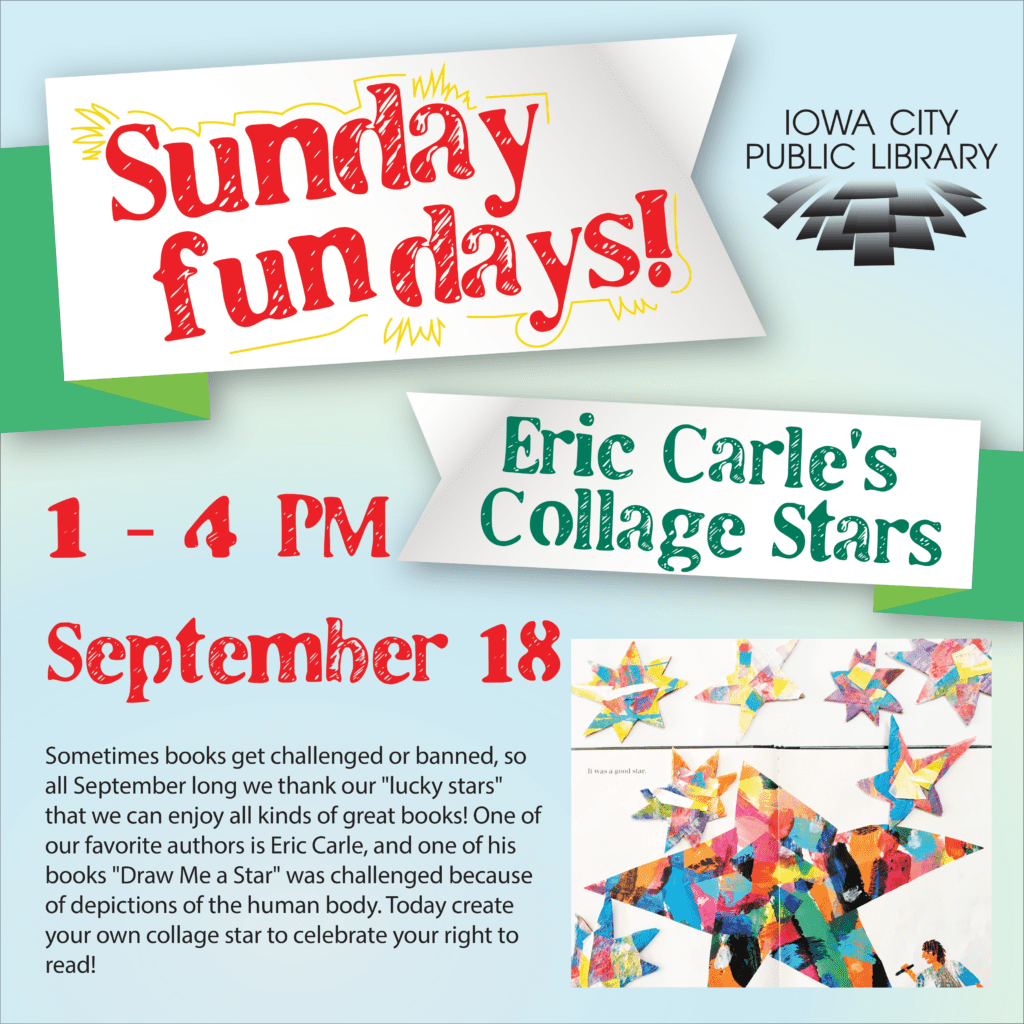 Sunday, September 18, 2022 –1:00pm to 4:00pm
Here at the library we LOVE to celebrate your right to read any books you want! Sometimes books get challenged or banned, so all September long we thank our "lucky stars" that we can enjoy all kinds of great books! One of our favorite authors is Eric Carle, and one of his books "Draw Me a Star" was challenged because of depictions of the human body. Today create your own collage star to celebrate your right to read!
—
¡Aquí en la biblioteca nos ENCANTA celebrar su derecho a leer los libros que desee! A veces, los libros son desafiados o prohibidos, por lo que durante todo septiembre agradecemos a nuestras "estrellas de la suerte" que podemos disfrutar de todo tipo de libros geniales. Uno de nuestros autores favoritos es Eric Carle, y uno de sus libros, "Draw Me a Star", fue cuestionado debido a las representaciones del cuerpo humano. ¡Crea hoy tu propia estrella de collage para celebrar tu derecho a leer!
在我们的图书馆,阅读任何书籍的权利都值得推崇!有时候一些书籍会受到质疑甚至禁令,这个九月让我们一起感谢可以享受各种好书的"幸运星"。Eric Carle 埃里克·卡尔是我们最喜欢的儿童作家之一,他的一部作品《给我画一颗星星》因为描绘人体而受到质疑。今天的活动我们将制作自己的拼贴闪星来倡导阅读的权力!
If you need disability-related accommodations in order to participate in this event, please contact the Library.
This event is open to the public.