The Soft Stuff Poetry Night
The Soft Stuff Poetry Night
February 23 @ 6:30 pm

-

8:30 pm

$11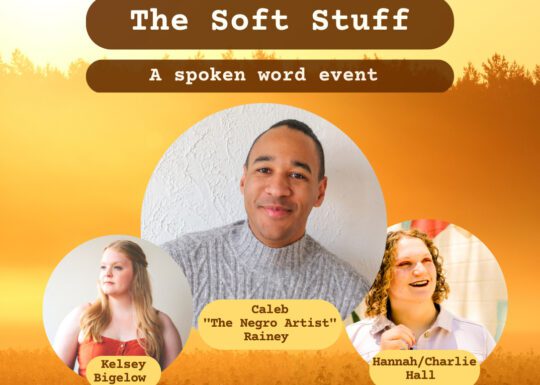 The Soft Stuff
A Spoken Word Event
Featuring Caleb "The Negro Artist" Rainey, Kelsey Bigelow, and Hannah/Charlie Hall

Ticket Options
$11.00 – General Admission
Show Description
Iowa poets, Caleb "The Negro Artist" Rainey, Kelsey Bigelow, and Hannah/Charlie Hall will share their powerful & soft spoken word poetry with everyone. It's a night full of big feelings and impressive poetry.
Caleb "The Negro Artist" Rainey is an author, performer, and producer. His debut book, Look, Black Boy, was awarded first prize in the North Street Book Prize, and his second book, Heart Notes was published in 2019. In 2020, 2021, and 2022 he was named Best Poet/Spoken Word Performer in Cedar Rapids & Iowa City. He is the winner of several slams across the United States, a 2019 finalist for the UNESCO City of Literature Global Poetry Slam – Iowa City, and was featured on Button Poetry and Write About Now.
Kelsey Bigelow is a spoken word and page poet based in Des Moines. She aims to be the motivator and mentor people don't always get in life. In her work, she molds incredibly specific emotions into something human, digestible, and cathartic. She believes we grow in empathy by talking about our shared experiences, no matter how difficult.
Hannah/Charlie Hall is an 18-year-old self-proclaimed: storyteller, poet, and writer. Hailing from Iowa City, Iowa, they are focused on showing the real and often ugly stories of mental illness, finding your identity as genderqueer, and learning to love a hard-to-love world. Hannah/Charlie is an Iowa City and Ames poetry slam winner, Between The Lines writing program graduate, and competed in Iowas' first and second state youth poetry slam in Des Moines. Hannah/Charlie Hall has been featured on Iowa Public Radio and placed third in the 2022 IC Speaks Page Poetry Contest. She/he was also Published in the 2022 October issue of "The Real MAINstream."