The Wilder Blue
July 21 @ 8:00 pm

-

10:00 pm

$15 – $20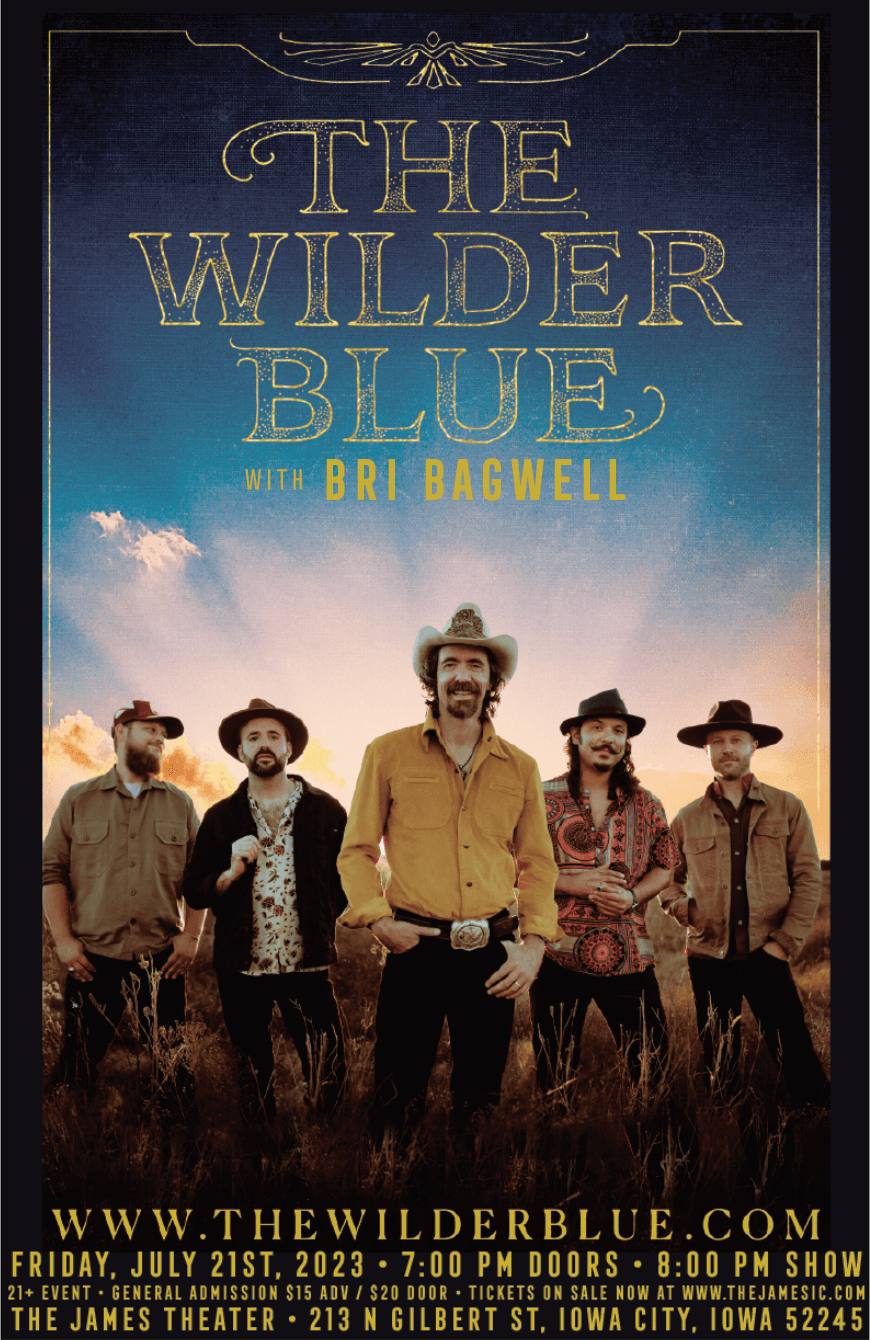 The Wilder Blue
Sharp storytelling. Gripping and gorgeous five-part harmonies. Arrangements that can swing between fun, engaging, and lively one moment and stirring, booming, and chill-inducing the next. These are the essential elements that make up the sound of The Wilder Blue, the Texas five-piece who put their own spin on rock-influenced country with their eponymous sophomore album. Recorded at Echo Lab Studios in Denton, Texas, the band self-produced The Wilder Blue with experienced engineer Matt Pence (Paul Cauthen, Shakey Graves). A true collaborative effort, The Wilder Blue is a genuine democracy where ideas, constructive criticism, and value is demanded by all parties. Built around the keen storytelling voice of primary frontman Zane Williams, Paul Eason's salient lead guitar, the imaginative tandem of drummer Lyndon Hughes and bassist Sean Rodriguez, and the striking, compelling mind of multiinstrumentalist Andy Rogers, The Wilder Blue are only beginning to scratch the surface of their potential.
Williams and Eason began toying with the idea of a new band in 2019 by seeking out a nimble set of collaborators. Knowing that they wanted to emphasize a rich vocal blend that could be replicated live, they soon enlisted Hughes and Rogers. When Rodriguez joined, it solidified the outfit as a cohesive unit. "Having studio time paid for by our fan subscribers gave us the chance to relax and spread out a little," explains Williams about the recording process for The Wilder Blue. Recording over the course of a few three-day sessions every few months allowed the band to experiment in the studio while avoiding harsh deadlines or the demand of cramming an album's worth of material into a week's worth of time. Often recorded to tape, vibrant tapestry of sonic swirls emerged. "What's fun about tape is that it forces you to commit to a take," adds Williams. "You don't just record five million parts and go comb through them later." "The five of us were able to sit together this time around," adds Rogers. "Since I was playing bass and other things last time around, I was having to think about a million different things. But for this, we all kind of felt like we were in our zone." In addition to implementing a lone studio for a cohesive sound, the months between studio sessions was an added luxury. This allowed songs and ideas to marinate and work themselves out over the course of band practices, sound checks, and shows.
Standout single, "Feelin' the Miles" is a prime example of a song shifting from one idea to another. What started out as a James Taylor-esque acoustic guitar stroll slowly but surely began to rise from the ashes of its former self. "My original concept for that song was much more in the vein of 'Okie Soldier' or 'Birds of Youth,'" says Williams. "We all liked the song, but we didn't need another like it so basically one day, I just came up with a totally different groove for it." What emerged was a loping bassline and savvy banjo that evoke the pastel glow of the 1980s where Miami Vice and Smoky & The Bandit intertwine for a heart worn highway midnight drive where all the miles, exit signs, and gas station coffee meld into one daunting long haul down a phantom road. "'Feelin' the Miles' was one of the first songs that felt like we were all able to filter everyone's collectiveness into the final version," says Rogers. Much like in "Feelin' the Miles", a looming arc of redemption, growth, and inner harmony can be glimpsed throughout the album with the likes of the poignant "Wave Dancer," the contemplative "The Kingsnake & The Rattler," and the compelling "Shadows & Moonlight." "Part of life is figuring out and finding your way," says Eason, who wrote and sings lead vocals on "Build Your Wings," a cornerstone song of the album. "A few years ago, I got divorced and I had been speaking with my uncle about it. He actually said that line to me–'Sometimes you build your wings on the way down'–and I thought it was just perfect." Even while "Build Your Wings" finds Eason and company seeking out inner peace on the contemplative anthem, a kaleidoscope and cascade of spirited sonic punches and vibrant and vivid harmonies takes charge on this freefalling standout. "Life has its ups and downs," adds Williams. "I don't want to write a song just about the ups. It's hard for me to write just about the ups. And if you just write about the downs without some sort of redemption, it's easy to get pretty dark and depressing."
Throughout, Williams and company are able to add a sense of courage even when surrounded by turmoil and strife. Songs like the rollicking "The Conversation" find the Wilder Blue leaning in on the soaring country twang of the Eagles and incorporating a vocal run interlude that calls back to '60s The Beatles and timeless bluegrass. On songs like "Wave Dancer" and album opener "Picket Fences", all five musicians breathe life into tried and true five-part harmonies that are as mesmerizing as they come. In addition to the powerful harmonies and sprawling sonic palette, Williams' knack for five-minute vignettes is yet another pillar on which Wilder Blue can count. The Wilder Blue as an album wouldn't be complete without taking advantage of the strong and able storytelling arcs of Williams. "With all the tools that we have in our toolkit, I think there's still a lot of ground to be covered," says Williams. "We haven't even delved into all of our tools just yet, but we definitely got to go further down the road with digging into the box for this record."
Bri Bagwell
Texas Female Artist of the Decade, Bri Bagwell, is a force to be reckoned with on the Texas Country scene. Bri has seen her audience grow and diversify as she has progressed through the musical landscape. From her first full-length release, Banned from Santa Fe in 2011, to her 2022 release Corazón y Cabeza (Heart and Head) Bri has masterfully commanded the stage for over a decade with her rousingly fun live performances and trailblazing artistry while creating a loyal and passionate fan base.
Bri grew up in Las Cruces, NM but now lives in New Braunfels, TX. From the time she was writing poems in her childhood bedroom, to teaching herself how to play a dusty old piano, to getting her first taste of honky-tonk life singing in her twin brothers' band at age 14, to playing her first solo show in college, Bri has integrated music into each stage of her life.
After high school, jumping at the chance to live in 'The Live Music Capital of the World', Bri attended the University of Texas in Austin. It was here that Bri picked up a guitar and quickly learned to play a few chords. She jokes, "because it was easier to carry than a piano." Finding herself in the right city with a new passion for the 6-string life surrounded by fellow musicians, Bri was drawn to the stage.
Following graduation Bri worked with a startup company in Austin where she utilized her marketing major. But she began playing shows so frequently, she found herself needing to choose between her day job and her dream. After just three months, Bri knew what she had to do and transitioned full time into her music career. With ten #1 songs in Texas and multiple Female Vocalist of the Year awards to her credit, it is clear she made the right choice.
A talent as tremendous as Bri's has begun to garner national attention. People Magazine recently premiered her new record saying, "Bri Bagwell finds the path to her own heart on new album Corazón y Cabeza…[Bagwell] is increasingly finding her name being mentioned amongst country music truth tellers such as Ashley McBryde and Morgan Wade."
Bri's musical influences have all played a part in her musical evolution; from Johnny Cash to Dwight Yoakum, Miranda Lambert to George Strait, their spirits live within her songs. While on the road, she has shared the stage with some of the best: Willie Nelson, Miranda Lambert, Gary Alan, Dwight Yoakum, Randy Rogers, Robert Earl Keen, Wade Bowen just to name a few.
Playing over 150 shows in back-to-back years, Bagwell is no stranger when it comes to hard work. Fresh off the release of her new record, she is already writing new music alongside planning tour dates to some of her favorite venues. When asked about life on the road, Bri responds, "it's in my blood." Be on the lookout for new show announcements for 2023.