Tom Philpott in conversation with Silvia Secchi and Chris Jones
Tom Philpott in conversation with Silvia Secchi and Chris Jones
October 18, 2022 @ 7:00 pm

-

9:00 pm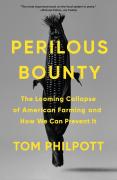 Prairie Lights Bookstore
Please join us for a reading and conversation with Tom Philpott in celebration of the release of his book Perilous Bounty: The Looming Collapse of American Farming and How We Can Prevent It. He will be joined in conversation by Silvia Secchi and Chris Jones.
Tom Philpott has been the food and agriculture correspondent for Mother Jones since 2011. Previously, he covered food as a writer and editor for the environmental-news website Grist. Philpott's work on food politics has appeared in the New York Times, Newsweek, and the Guardian, among other places. From 2004 to 2012, he farmed at Maverick Farms in Valle Crucis, NC. He lives in North Carolina and Austin, Texas.
Silvia Secchi is a professor in the Department of Geographical and Sustainability Science at the University of Iowa. She holds a PhD in economics from Iowa State University. Her work focuses on the interface between agriculture and the environment, particularly water and carbon, and typically combines interdisciplinary collaborations from the social sciences, the natural sciences and engineering.
Chris Jones is a research engineer at IIHR-Hydroscience & Engineering at the University of Iowa. His research focuses on contaminant hydrology in agricultural landscapes, water monitoring, and municipal drinking water supply. He worked previously at Des Moines Water Works and the Iowa Soybean Association. Chris holds a PhD in Analytical Chemistry from Montana State University and a BA in Chemistry and Biology from Simpson College in Indianola.