Totally Tweens: Alma Thomas Color Field Painting
Totally Tweens: Alma Thomas Color Field Painting
February 4 @ 4:00 pm

-

5:00 pm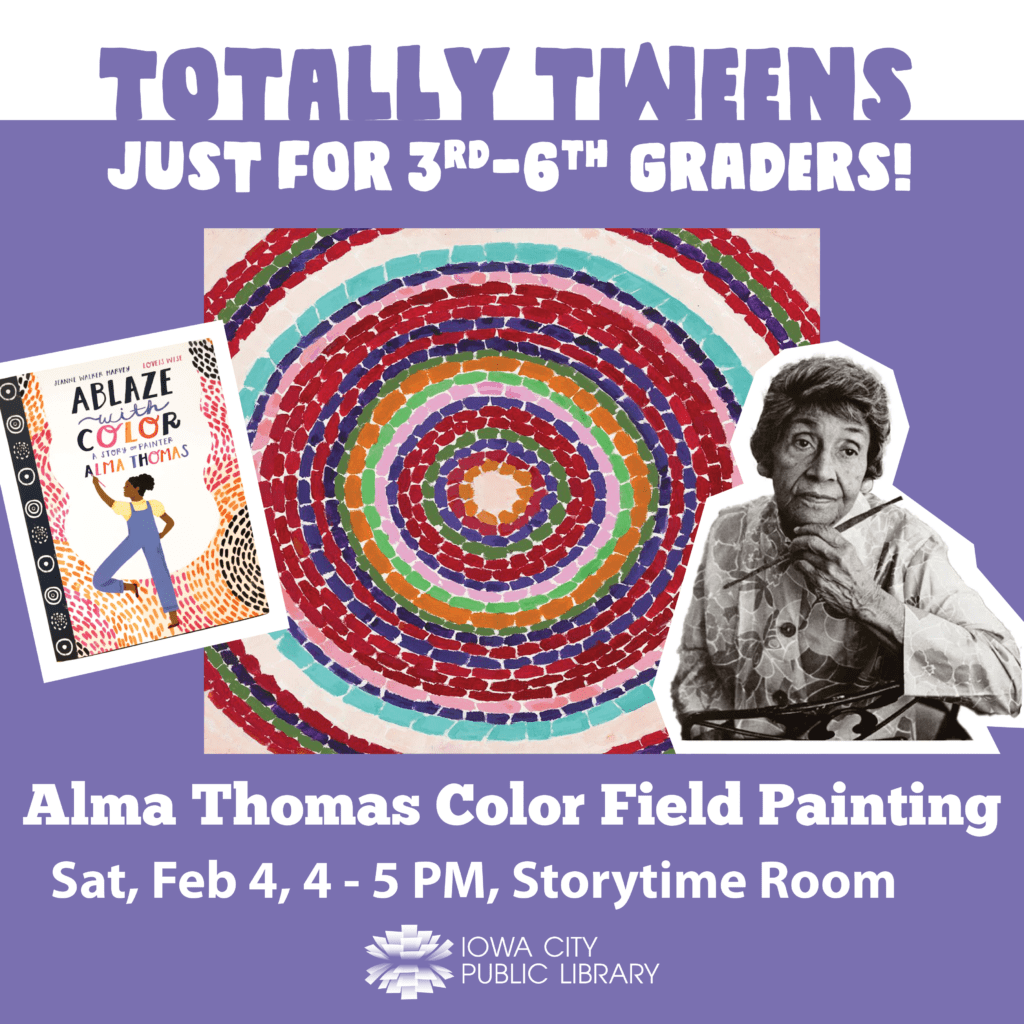 Saturday, February 4, 2023 –4:00pm to 5:00pm
Alma Thomas, a Black American artist who lived from 1891 to 1978, was the first graduate of Howard University's Fine Arts program in 1924 and is now recognized as a major American painter of the 20th century. She is best known for the colorful abstract expressionist paintings she created in her 80s, after retiring from a 35-year career teaching art at a segregated public junior high school in Washington, D.C.
Listen to a read-aloud of "Ablaze With Color: A Story of Painter Alma Thomas" by Jeanne Walker Harvey to learn more about her life and artistic process. Then, create a painting of your own in the style of Thomas' work using paint and a cork "stamp" to create repeating blocks of color.
This event is for children in grades 3-6.
—
Alma Thomas, una artista negra estadounidense que vivió entre 1891 y 1978, fue la primera graduada del programa de Bellas Artes de la Universidad de Howard en 1924 y ahora es reconocida como una de las principales pintoras estadounidenses del siglo XX. Es mejor conocida por las coloridas pinturas expresionistas abstractas que creó cuando tenía 80 años, después de retirarse de una carrera de 35 años enseñando arte en una escuela secundaria pública segregada en Washington, D.C.
Escuche una lectura en voz alta de "Ablaze With Color: A Story of Painter Alma Thomas" de Jeanne Walker Harvey para aprender más sobre su vida y su proceso artístico. Luego, crea tu propia pintura al estilo del trabajo de Thomas usando pintura y un "sello" de corcho para crear bloques de color repetitivos.
Este evento es para niños en los grados 3-6.
阿尔玛·托马斯 (Alma Thomas) ,美国黑人艺术家,生于1891 年,卒于1978 年。她是 1924 年霍华德大学美术专业的第一届毕业生,现在被公认为 20 世纪美国最重要的画家之一。她曾在华盛顿特区一所隔离的公立初中从事 35 年的艺术教学工作。退休以后又在 80 多岁时创作出色彩缤纷的抽象表现主义绘画流派。
聆听珍妮·沃克·哈维 (Jeanne Walker Harvey) 朗读的《闪耀色彩:画家阿尔玛·托马斯的故事》,了解更多关于Thomas 的生平和艺术历程。然后,仿照她的作品风格使用颜料和印章创作一幅属于您自己的画作。
此活动面向 3-6 年级的儿童。
If you need disability-related accommodations in order to participate in this event, please contact the Library.
This event is open to the public.