Totally Tweens: Dungeons and Dragons Club
Totally Tweens: Dungeons and Dragons Club
October 5, 2022 @ 5:00 pm

-

6:00 pm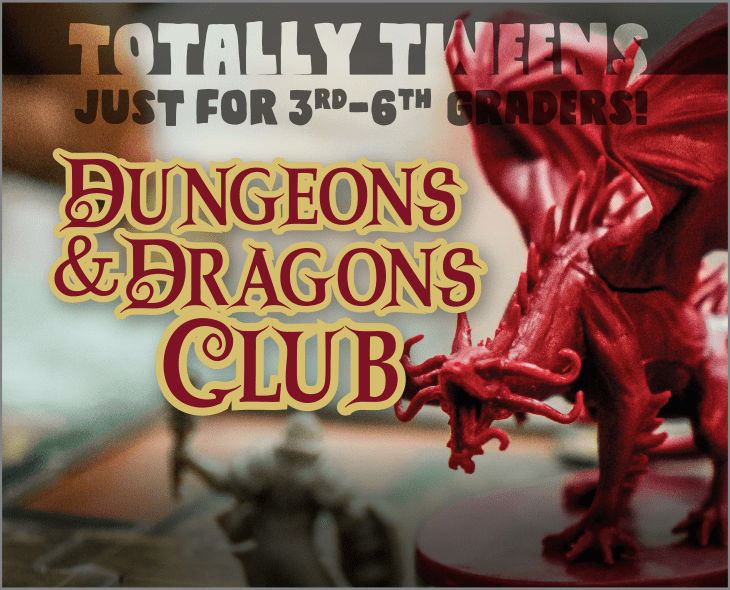 Have you ever wanted to fight monsters, cast spells or steal treasure from a dungeon? If this sounds like your kind of fun, come join us for Totally Tweens: Dungeons and Dragons Club. You will learn how to make characters, roleplay, keep track of your stats and have a great time playing this exciting roleplay game with other tweens.
All tweens welcome; no experience necessary. No registration required. This event is for kids in grades 3-6 only. We meet on the 1st and 3rd Wednesday of each month from 5-6pm.
—
¿Alguna vez has querido luchar contra monstruos, lanzar hechizos o robar tesoros de una mazmorra? Si esto suena como su tipo de diversión, únase a nosotros para Totally Tweens: Dungeons and Dragons Club. Aprenderás cómo crear personajes, juegos de rol, llevar un registro de tus estadísticas y pasar un buen rato jugando este emocionante juego de rol con otros preadolescentes.
Todos los preadolescentes son bienvenidos; no se necesita experiencia. No es necesario registrarse. Este evento es solo para niños en los grados 3-6.
你想和我们一起打怪、施法或盗宝吗?请加入我们的《龙与地下城》游戏俱乐部。你将学习如何创作人物、角色扮演、跟踪数据,并与其他少年朋友一起玩这个激动人心的角色扮演游戏。
本活动欢迎3-6 年级同学参加, 无需经验。无需注册。
This event is open to the public.