Totally Tweens: Go With the Flow: A Blood Lab
Totally Tweens: Go With the Flow: A Blood Lab
March 30 @ 8:00 am

-

5:00 pm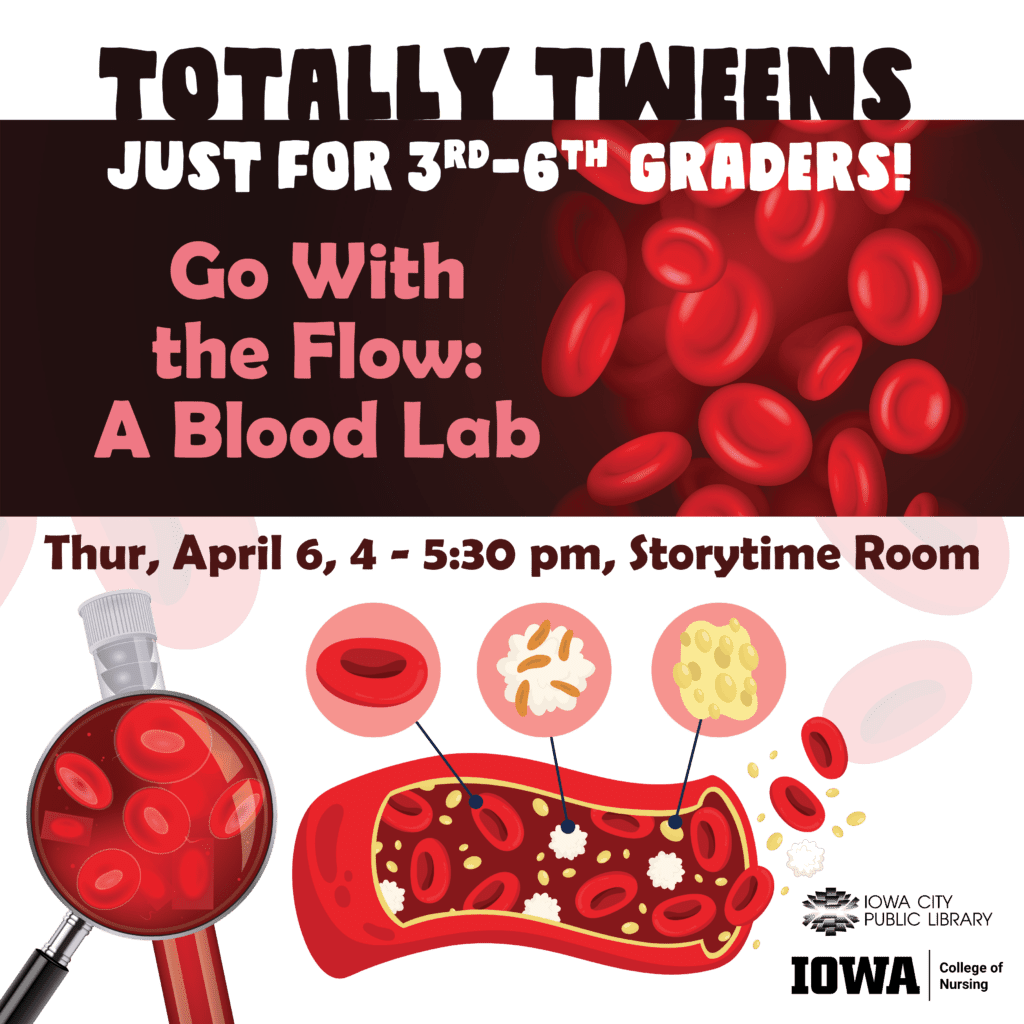 Thursday, April 6, 2023 –4:00pm to 5:30pm
You have around a gallon of blood moving rapidly through your body at all times – but have you ever thought much about blood? Like, what is it made of? What does it do?
Join students from the UI College of Nursing and make a 3D model of blood you can squeeze, squish, and stretch – blood slime! Then play games to learn about blood types and blood donation. You'll never think of blood the same way again!
(Note: Blood slime does not involve actual blood, don't worry.) This program is for kids in grades 3-6.
在我们的身体中始终有大约一加仑左右的血液快速的流淌着。您有没有思考过一些关于血液的问题?它是由什么构成的?它有什么作用?
爱荷华大学护理学院的学生将带我们一起用拉伸泥制作可以挤压和拉伸的3D血液模型 – 血泥!然后一起玩游戏来了解血型和鲜血。你将从此对血液有着全新的认识!
注:本活动面向3-6年级学生,仅以拉伸泥玩具模拟,不涉及真正的血液。
—
Tiene alrededor de un galón de sangre moviéndose rápidamente a través de su cuerpo en todo momento, pero ¿alguna vez ha pensado mucho en la sangre? Como, ¿de qué está hecho? ¿Qué hace?
Únase a los estudiantes de la Facultad de Enfermería de la UI y haga un modelo 3D de sangre que pueda exprimir, aplastar y estirar: ¡slime de sangre! Luego juegue juegos para aprender sobre los tipos de sangre y la donación de sangre. ¡Nunca volverás a pensar en la sangre de la misma manera!
(Nota: slime de sangre no es sangre real, no se preocupe). Este programa es para niños en los grados 3-6.
If you need disability-related accommodations in order to participate in this event, please contact the Library.
This event is open to the public.