Totally Tweens: Yayoi Kusama Pop Art Painting
Totally Tweens: Yayoi Kusama Pop Art Painting
March 18 @ 4:00 pm

-

5:00 pm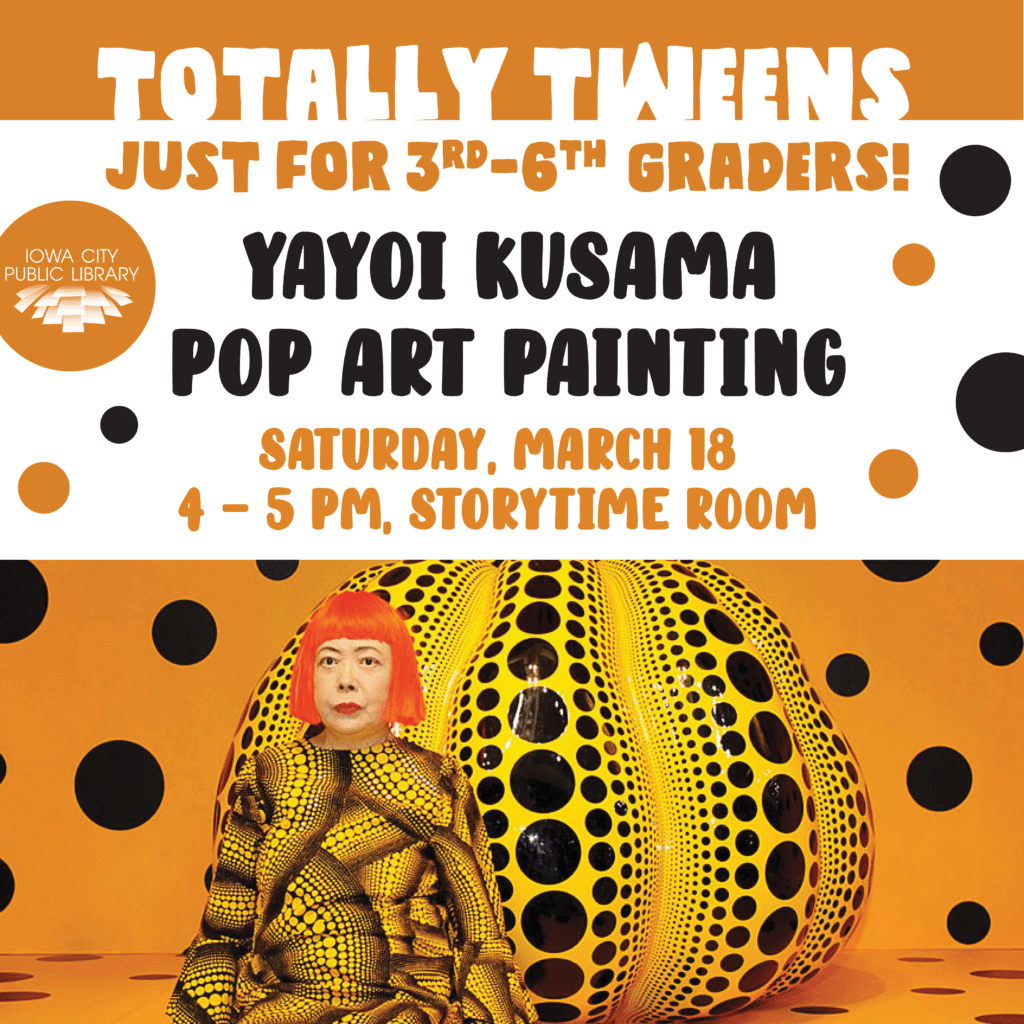 Saturday, March 18, 2023 –4:00pm to 5:00pm
Yayoi Kusama is a Japanese contemporary artist who studied traditional Japanese painting before moving to New York City in 1958 and joining the pop art scene, where her sculpture, installation, and performance art often speak to her feminist sensibilities and struggles with mental health.
First listen to a read-aloud of the book "Yayoi Kusama: From Here to Infinity" by Sarah Suzuki to learn about Kusama's life and inspiration and see examples of her work. Then, create a piece of artwork in the style of Kusama by adding patterns of her signature precise polka dots to an image.
This program is for 3rd-6th graders.
Yayoi Kusama 是一位日本当代艺术家,她曾经研习日本传统绘画,后于 1958 年移居纽约并投身波普艺术。她的许多雕塑作品和表演艺术都表达了女性主义情感和她为心理健康的而做出的奋斗。
活动中将首先放映莎拉·铃木朗读《Yayoi Kusama:从这里到无限》一书,了解她的生平和创意,赏析部分作品。然后,我们将学习创作Yayoi Kusama风格的艺术品,在一副图像中添加她标志性的波点图案。
本活动面向 3 至 6 年级的学生。
—
Yayoi Kusama es una artista japonesa contemporánea que estudió pintura japonesa tradicional antes de mudarse a la ciudad de Nueva York en 1958 y unirse a la escena del arte pop, donde su escultura, instalación y arte de actuación a menudo hablan de su sensibilidad feminista y luchas con la salud mental.
Primero escuche una lectura en voz alta del libro "Yayoi Kusama: From Here to Infinity" de Sarah Suzuki para conocer la vida y la inspiración de Kusama y ver ejemplos de su trabajo. Luego, cree una obra de arte al estilo de Kusama agregando patrones de sus característicos lunares precisos a una imagen.
Este programa es para estudiantes de 3ro a 6to grado.
If you need disability-related accommodations in order to participate in this event, please contact the Library.
This event is open to the public.