Using XR and Metaverse Applications to Prepare Iowa's Labor Force
Using XR and Metaverse Applications to Prepare Iowa's Labor Force
August 23 @ 3:30 pm

-

5:00 pm

Free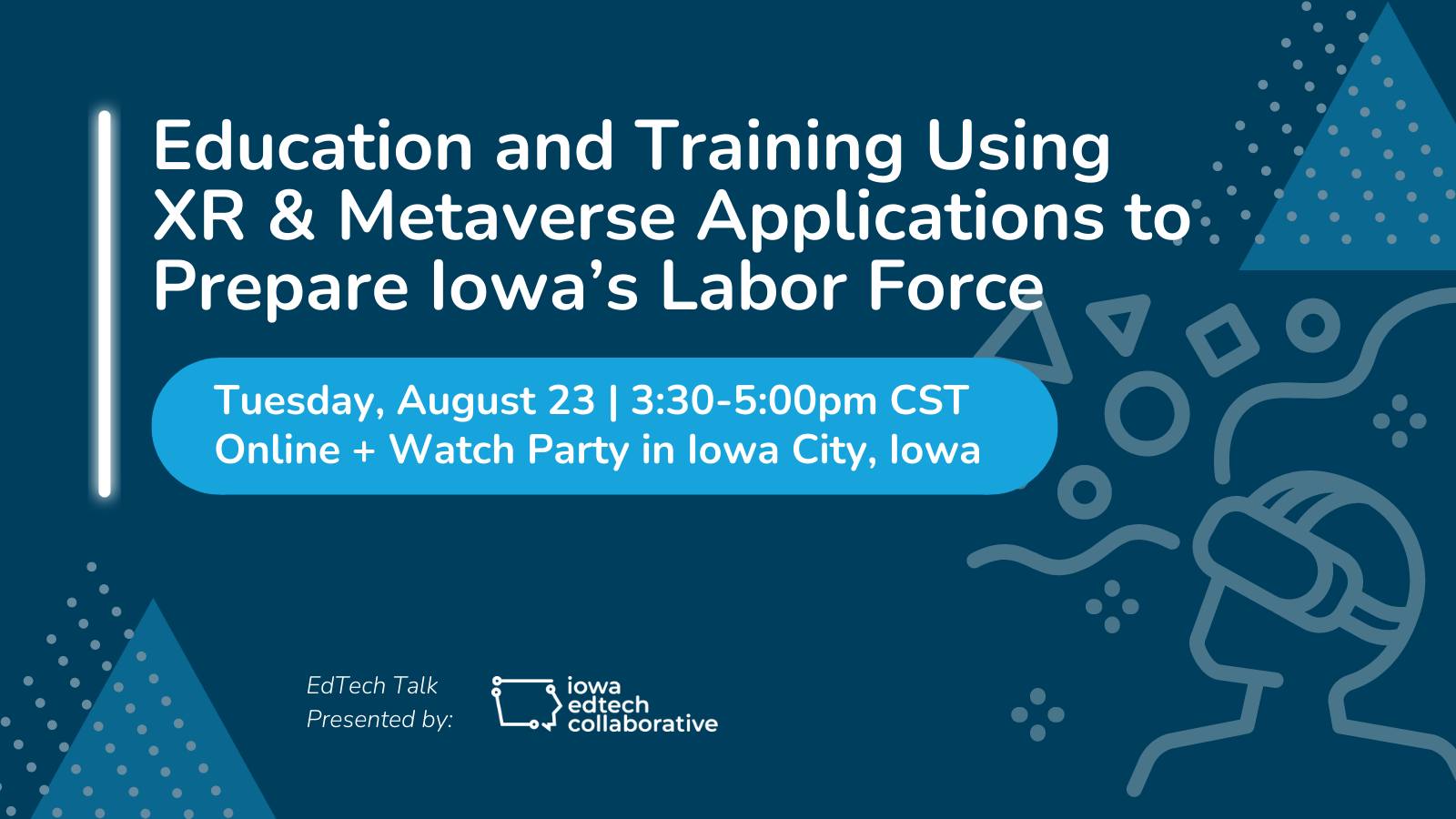 Education and Workforce Solutions
Join the Iowa EdTech Collaborative for an EdTech Talk: Education and Workforce Solutions Using XR & Metaverse Applications to Prepare Iowa's Labor Force on Tuesday, August 23rd from 3:30–5:00pm. Mark Butland, Ed.D., Director of the Iowa EdTech Collaborative, will lead a discussion with Iowa EdTech thought leaders about how XR & metaverse solutions can transform workforce training and expose Iowa's students to an array of in-demand careers in technology, medicine, and manufacturing via virtual job shadowing.
You are welcome to join us online or in-person [RSVP at https://bit.ly/3Pj7Bai] at MERGE coworking in Iowa City [136 S. Dubuque St. Iowa City] for our watch party + post-event happy hour 5:00–6:00pm. You'll be able to connect with other professionals in the EdTech field and meet our panelists.
Our thought leader panel includes:
• Jim Sherlock, Senior Director, Customer Success, Pearson
• Kerry Smith, CEO, ChalkBites, Inc.
About the event:
The use of immersive technology including synchronous metaverse platforms for skills training is superior to conventional methods. The advantages gained using these technologies are well supported and widely accepted. Likewise, public and private partnerships for nextGen jobs, skills, and apprenticeship opportunities are becoming even more of a focus for our state leaders. Job shadowing using immersive technologies provides an effective, equitable, safe, and affordable solution.
The most common challenges in workforce development are increasing costs and difficulty of equitable access to experiences with skilled workforce expertise in real-life locations. Cost and safety considerations have historically prohibited job shadowing experiences for many vocations; for example, climbing to the top of a wind turbine to repair a faulty switch, fighting an industrial park fire, or chemical engineering with biohazardous materials. How might we support Iowa's next generation of workforce into exciting opportunities in high-demand careers through public-private partnerships?
One solution lies in placing students within a live, synchronous, engaging XR environment that is immersive, affordable, readily accessible, and safe. For example, Build Iowa's Virtual Reality Program leverages XR and the metaverse to create a sense of realism that is not accessible in the real world. The use of extended reality technologies reduces training accidents as well as property and casualty losses. Today, exciting and dynamic working environments can be accessed without the associated risk.