We Are Hawkeyes: Student Life on Campus in the 1960s and 70s
We Are Hawkeyes: Student Life on Campus in the 1960s and 70s
April 25, 2022 @ 5:30 pm

-

7:00 pm

Free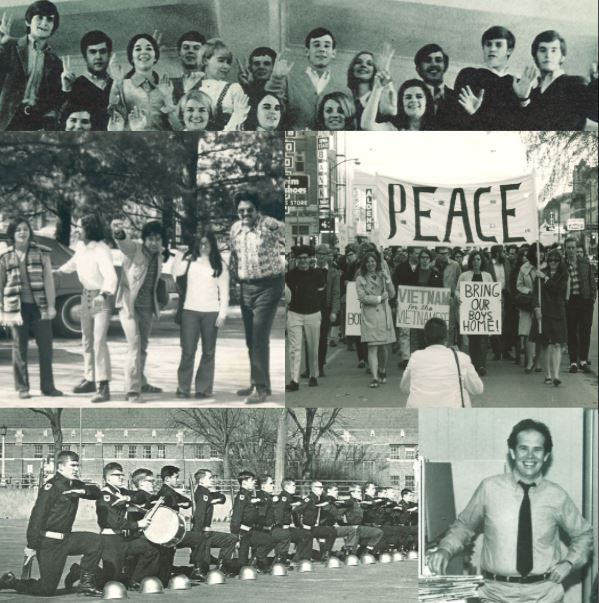 As the University of Iowa celebrates its 175th anniversary, it's an opportunity to reflect on how the 1960s and 70s were a unique time for people on campus and throughout the country. The memorable years were full of change, activism, and legendary student leadership.
The Division of Student Life and the University Libraries invite you to celebrate the legacy of these decades through a can't-miss conversation between Rusty Barceló, Emil Rinderspacher, Bill Casey, Richard Tyner, and JoAnne Bryant Downes about their experiences as students and staff on campus during these times.
David McCartney, university archivist emeritus, will moderate the discussion. Vice President for Student Life Sarah Hansen will provide a welcome.
Light refreshments will be available, and the Main Library Gallery next door to Shambaugh Auditorium will be open late until 8 p.m. with the exhibit We Are Hawkeyes: Celebrating 175 Years of Student Life at the University of Iowa.
More about the panelists:
Nancy "Rusty" Barceló (72MA, 80PhD) is an original founder of the Latino Native American Cultural Center and the first Mexican American to earn a doctoral degree at Iowa.
Emil Rinderspacher (70BA, 74MA) is the former UI director of admissions. During his time as a student on campus, he was an activist opposing U.S. policy in Vietnam.
Bill Casey was the publisher of The Daily Iowan for over four decades, beginning in the 1970s.
Richard Tyner (70BA) was active on campus as an Army ROTC cadet leader, assistant head resident of Rienow Residence Hall, and president of the Union Board (IMU student programming organization).
JoAnne Bryant Downes was a student who left campus before graduation to work as an Army nurse in Vietnam.
Event location: Shambaugh Auditorium, Main Library, University of Iowa Libraries.
Free and open to the public. All are welcome. RSVP is encouraged; please RSVP here.
Learn more about Main Library parking options here.
Individuals with disabilities are encouraged to attend all University of Iowa–sponsored events. If you are a person with a disability who requires a reasonable accommodation in order to participate in this program, please contact Sara J. Pinkham in advance at 319-467-1805 or sara-pinkham@uiowa.edu