We The Interwoven Vol. 2 Anthology Reading @ Prairie Lights
We The Interwoven Vol. 2 Anthology Reading @ Prairie Lights
June 29, 2019 @ 11:00 am

-

1:00 pm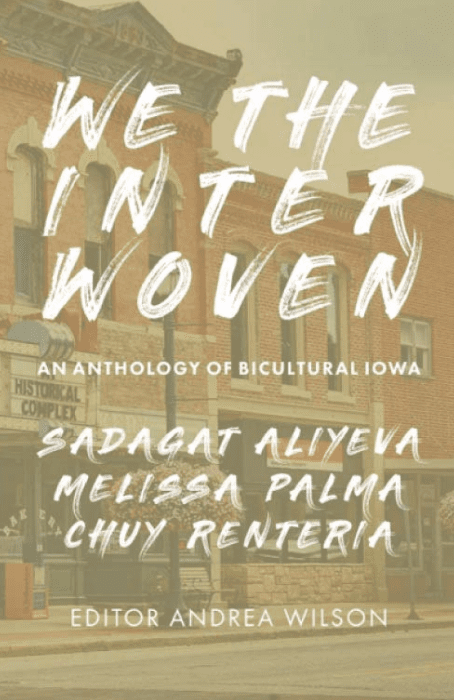 Please join us for a special launch event for We the Interwoven: An Anthology of Bicultural Iowa, Volume 2, an anthology of Iowa residents who have multicultural backgrounds, compiled and edited by Andrea Wilson.
At six years old, Antonia Rivera crossed the border from Mexico with nothing but the doll in her hands. Ajla Dizdarević's family brought traditions across an ocean after leaving a home torn apart by the Bosnian War. Sarah Elgatian's grandmother played cards and spoke of a country her Armenian-American grandchild had never known. Hieu Pham couldn't relate to all of her mother's Vietnamese traditions, but when she became a mother herself, everything changed. Rana Hewezi grappled with tragedy in her Egyptian family's past and the power of a name in determining her fate. Anthony Mielke couldn't shake the feeling that there was more to his birth story than he had been told. A member of the Meskwaki Nation, Dawson Davenport was born into a world that was not told in the history books.
How do we make our way in a society that looks nothing like the one our families once knew? How do we find a sense of belonging in a past and a place we've never been, or in a world that feels as if it's changing faster than we are?
These seven stories take us on a ride through the heart and the moral conscience as they explore how we find identity and make a future in an America that is still deciding on its own.
Join the Iowa Writers' House for a special reading and launch event at Prairie Lights Bookstore featuring the second anthology written by Iowa immigrants and bicultural residents from across the state of Iowa.
"What a beautiful, moving, haunting collection of stories. This project, and the Bicultural Writers' Fellowship that produced it, gives me hope for what's possible in the future. By crafting the stories of their lives and sharing their struggles and accomplishments, these writers offer a generosity of spirit and the kind of insight that creates connections—with readers, with strangers, with the many different people who make up Iowa, the U.S., the world. This book is a triumph." —Michele Morano, author of Grammar Lessons: Translating a Life in Spain
"…In the quest of all people to find freedom, it is heartening that Antonia and others can find a home in Iowa, which has not forgotten its own immigrant story." —Art Cullen, Pulitzer-Prize winning journalist and author of Storm Lake: A Chronicle of Change, Resilience, and Hope from a Heartland Newspaper