Willow Creek Theatre Company Presents "The Fantasticks"
Willow Creek Theatre Company Presents "The Fantasticks"
February 10 @ 7:00 pm

-

8:30 pm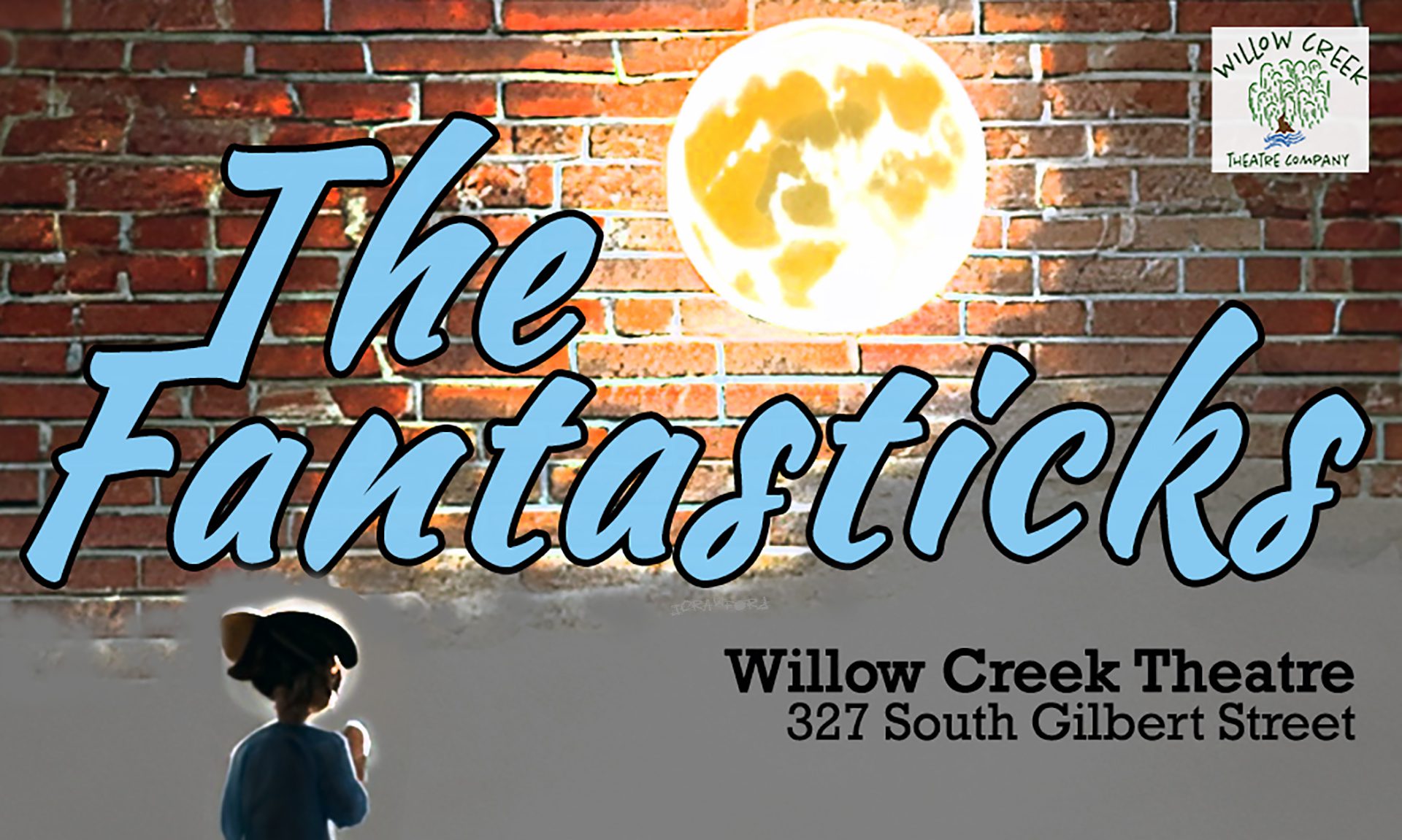 "Try To Remember" a time when this romantic charmer wasn't enchanting audiences around the world. The Fantasticks is the longest-running musical in the world and with good reason: at the heart of its breathtaking poetry and subtle theatrical sophistication is a purity and simplicity that transcends cultural barriers. The result is a timeless fable of love that manages to be nostalgic and universal at the same time.
The Fantasticks is a funny and romantic musical about a boy, a girl, and their two fathers who try to keep them apart. The narrator, El Gallo, asks the audience to use their imagination and follow him into a world of moonlight and magic. The boy and the girl fall in love, grow apart and finally find their way back to each other after realizing the truth in El Gallo's words that, "without a hurt, the heart is hollow."
With its minimal costumes, small band and virtually nonexistent set, The Fantasticks is an intimate show that may be performed in virtually any space, engaging the audience's imagination and showcasing a strong ensemble cast. It's a moving tale of young lovers who become disillusioned, only to discover a more mature, meaningful love is punctuated by a bountiful series of catchy, memorable songs, many of which have become classics.
𝐏𝐫𝐨𝐝𝐮𝐜𝐭𝐢𝐨𝐧 𝐓𝐞𝐚𝐦:
𝐃𝐢𝐫𝐞𝐜𝐭𝐨𝐫- 𝐉𝐨𝐬𝐡 𝐒𝐚𝐳𝐨𝐧
𝐌𝐮𝐬𝐢𝐜 𝐃𝐢𝐫𝐞𝐜𝐭𝐨𝐫- 𝐃𝐢𝐚𝐧𝐞 𝐓𝐡𝐚𝐲𝐞𝐫
𝐂𝐡𝐨𝐫𝐞𝐨𝐠𝐫𝐚𝐩𝐡𝐲- 𝐓𝐚𝐲𝐥𝐨𝐫 𝐆𝐨𝐦𝐞𝐳
𝐒𝐭𝐚𝐠𝐞 𝐌𝐚𝐧𝐚𝐠𝐞𝐫- 𝐑𝐨𝐱𝐲 𝐑𝐮𝐧𝐧𝐢𝐧𝐠
𝐋𝐢𝐠𝐡𝐭𝐢𝐧𝐠 𝐚𝐧𝐝 𝐒𝐞𝐭 𝐃𝐞𝐬𝐢𝐠𝐧𝐞𝐫- 𝐋𝐮𝐤𝐞 𝐁𝐫𝐨𝐨𝐤𝐬
𝐂𝐨𝐬𝐭𝐮𝐦𝐞 𝐃𝐞𝐬𝐢𝐠𝐧𝐞𝐫 𝐓𝐁𝐀
𝐂𝐚𝐬𝐭:
𝐍𝐚𝐫𝐫𝐚𝐭𝐨𝐫/𝐄𝐥 𝐆𝐚𝐥𝐥𝐨 – 𝐑𝐢𝐜𝐡 𝐋𝐞𝐌𝐚𝐲
𝐓𝐡𝐞 𝐆𝐢𝐫𝐥 (𝐋𝐮𝐢𝐬𝐚) – 𝐊𝐚𝐭𝐞𝐥𝐲𝐧 𝐇𝐚𝐥𝐯𝐞𝐫𝐬𝐨𝐧 
𝐓𝐡𝐞 𝐁𝐨𝐲 (𝐌𝐚𝐭𝐭) – 𝐑𝐢𝐬𝐡𝐢 𝐖𝐚𝐠𝐥𝐞
𝐇𝐮𝐜𝐤𝐥𝐞𝐛𝐞𝐞 – 𝐌𝐚𝐫𝐭𝐲 𝐑𝐞𝐢𝐜𝐡𝐞𝐫𝐭
𝐁𝐞𝐥𝐥𝐚𝐦𝐲 – 𝐁𝐫𝐲𝐚𝐧 𝐋𝐚𝐰𝐥𝐞𝐫
𝐓𝐡𝐞 𝐌𝐚𝐧 𝐖𝐡𝐨 𝐃𝐢𝐞𝐬 – 𝐉𝐨𝐬𝐡 𝐂. 𝐂𝐫𝐚𝐰𝐟𝐨𝐫𝐝
𝐓𝐡𝐞 𝐌𝐮𝐭𝐞 – 𝐌𝐞𝐥𝐚𝐧𝐢𝐞 𝐂𝐡𝐞𝐫𝐯𝐞𝐤
𝐓𝐡𝐞 𝐎𝐥𝐝 𝐀𝐜𝐭𝐨𝐫 – 𝐓𝐁𝐀
Produced through arrangement of Musical Theatre International.