Winter Night Lights
February 11 @ 12:00 am

-

11:59 pm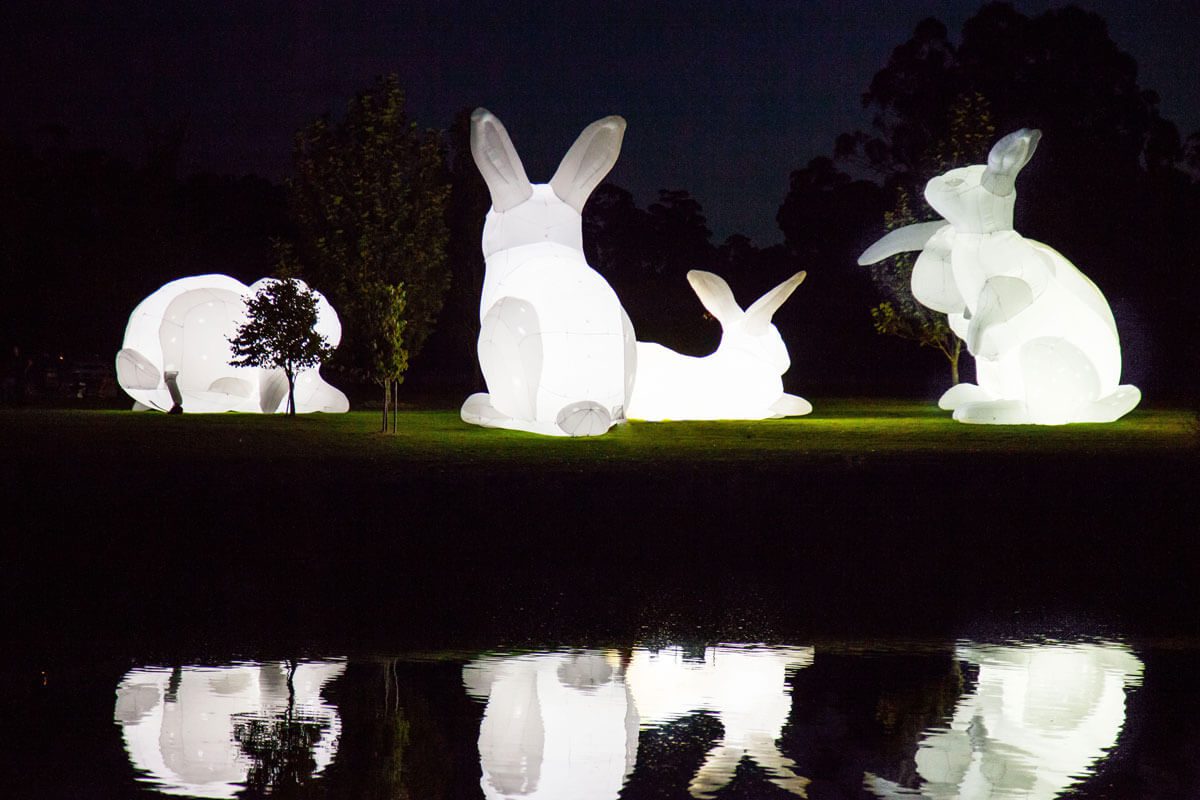 A new outdoor winter experience opening this February in the heart of downtown, aimed at embracing winter nights. Winter Night Lights will be a month-long, multi-faceted experience opening on February 1, 2023.  The event will extend through February 28 on Downtown Iowa City's pedestrian mall, featuring one-of-a-kind light-based installations and unique activations. The installation line-up will feature Ali Hval's Doodle Trees, downtown's annual Singing Trees, a new permanent 120-foot alley light "canopy," and internationally renowned artist Amanda Parer's Intrude bunny inflatable sculptures.
Encouraging the local community to come out and engage in cold-weather activities and an active downtown setting during the area's winter months has been an ongoing initiative of the Downtown District for the past three years.  The Winter Night Lights experience has been built around a traditionally slower month for downtown with goals to increase visitation by adding this whimsical and fun completely self-guided experience.  "Focusing on light-based multi-faceted art installations opens up a very accessibility experience to the entire community and our visitors.  It is something to be enjoyed at anytime of day at your own pace for the entire month, " said Iowa City Downtown District Director of Creative Services, Betsy Potter.
The February experience will center around four different lighting installations combining traveling, annual, and permanent features, from local and international artists throughout the ped mall.
Supported by the ICDD, Think Iowa City, OPN Architects, Axiom Consultants, and MidAmerican Energy, Iowa City will be the only U.S. community in 2023 to welcome internationally renowned artist Amanda Parer's installation, "Intrude". All the way from Australia, Downtown Iowa City will host six enormous rabbits as they adorn several sections of the ped mall to provoke a sense of wonder and playful interactions, while raising questions about our relationship with the natural world. "It can be said that the rabbit is my muse. My artwork, Intrude, is like any good fairytale, it works from both the light and the dark. In Australia, the rabbit simultaneously represents a cute, cuddly character from our childhood and is an animal known to impose great destruction of the island continents's delicate ecosystems. It has been fun to use these motifs to explore our relationship with the natural world", said artist, Amanda Parer.
Through a partnership between the University of Iowa, Neumann Monson, and the ICDD, a new interactive 120-foot light canopy will be draped over one of the signature alleys in the heart of downtown.  This new lighting installment will be open during Winter Night Lights and remain a permanent fixture throughout the year.  This highly adaptable lighting canopy can be activated by sound with those that engage with it and is sure to set the stage for impromptu events and activities throughout the year.
Interactive "Singing Trees" will be activated along the Dubuque Street corridor of the pedestrian mall, focusing on 6 trees with a full installation of lights to interact with the sounds and music happening in the City's living room.
Iowa City based artist Ali Hval has designed and installed six "Doodle trees" creating a bright fun and eclectic backdrop to the Dubuque Street area of the ped mall.
In addition to the these art installations, The Winter Night Lights experience will include each Friday in February will include cold-weather dance parties with silent disco at the Weatherdance Fountain stage. Beginning February 3, 2023, the community and visitors staying in the area will want to grab their parkas, scarves, and mittens from 6-9pm on February 3, 10, 17, and 24 for Iowa City's soon to be first outdoor dance parties.
Winter Night Lights will officially open February 1st at 5pm and run until February 28th.