Witching Hour
November 5, 2021

-

November 6, 2021

$25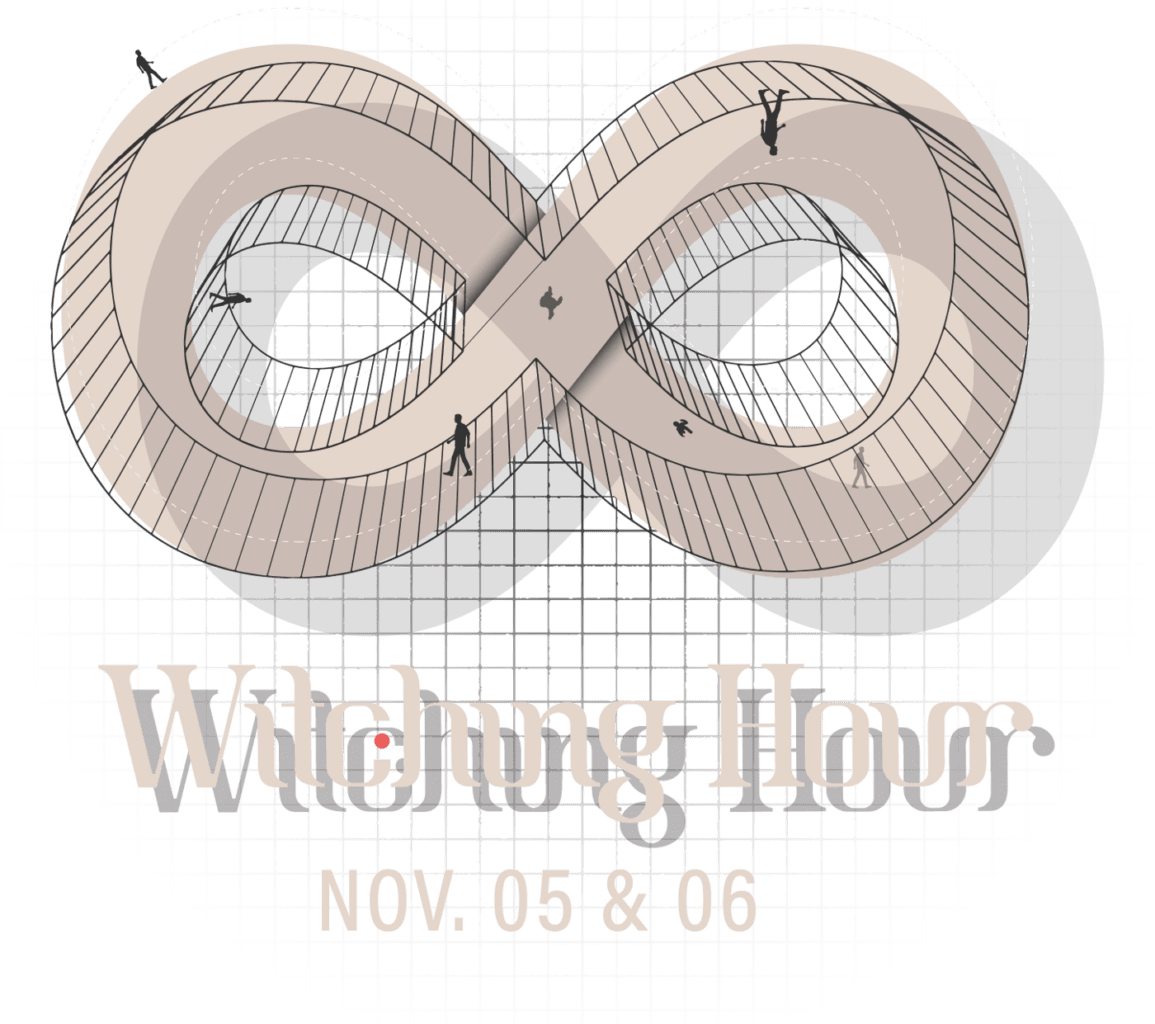 Presented by The Englert Theatre and Little Village Magazine
The Englert Theatre and Little Village announced the festival program for Witching Hour 2021 today, returning to downtown Iowa City on November 5th & 6th.
Witching Hour 2021 is a two-day, immersive art and community experience featuring conversations, readings, and performances from revered independent artists. The festival will also see the premiere of the interactive sound sculpture known as Moebius Strips, which will act as the centerpiece for the festival. 
The Moebius Strips installation pays homage to the legacy of Dieter Moebius, who was a pioneer of German electronic music. The collaborative project includes unheard musical loops from Moebius' repertoire with contributions from Geoff Barrow (Portishead, Beak), Sarah Davachi, Jean-Benoît Dunckel (Air), Eve Maret, Mark Mothersbaugh (Devo), Phew, Hans-Joachim Roedelius (Cluster, Harmonia), Michael Rother (Harmonia, NEU!) and Yuri Suzuki. The Englert stage will act as the installation's world premiere exhibit before it travels to museums and galleries across the globe. 
Of the Moebius Strips project, Brian Coney (Pitchfork) says this: "By smudging what constitutes beginnings and endings, along with preconceptions about authorship, Moebius Strips is—just like Moebi was—many things at once. It feels here and there, past and present, his and theirs. Ours, too. With a confidante like Story at the helm, it honors the legacy of a friend and pioneer whose enviable status as the godfather of electronic krautrock is beginning to feel like a case of underselling." 
Continuing the motif of interactivity, the festival will host Moebius-inspired Moog workshops led by electronic musician Eve Maret. Participants will have a unique opportunity to collaborate with the recordings of Dieter Moebius while learning to navigate Moog's Mother-32 and DFAM synthesizers. Joyful expression will be emphasized over an intellectual approach, making this workshop fun and accessible to people of all experience levels. 
The subject of independent spaces will be an additional touchpoint for this year's festival. Two separate panels comprised of local and non-local visionaries will explore the topic including representatives from The Black Liberation Space, Femme Decks, and Public Space One. These conversations are particularly urgent as we think about community building in response to the COVID-19 pandemic. 
Witching Hour 2021 is presented by The Englert Theatre and Little Village in Iowa City, in partnership with Curious Music in Coralville.  The festival provides a channel for artists, arts workers, and curious minds to unravel the subtext of who we are and an opportunity to design who we might become.
Program Highlights
Moebius Strips Launch Event w. Tim Story and Special Guests
Witness the sonic butterfly that is Moebius Strips emerge from its sonic cocoon at this buzz-worthy launch event. Grammy-nominated composer Tim Story (he/him) will speak about the project along with renowned electronic artists from across the globe. The launch will put Iowa City on a world stage for experimental arts.
Lala Lala
Lala Lala is a deeply introspective and noisy Chicago-based indie rock project led by singer/songwriter Lillie West (she/her). The group rose from playing basements in the underground D.I.Y. scene to signing with Sub Pop imprint Hardly Art for their 2018 sophomore album, The Lamb. Bolder surfaces emerged on the Yoni Wolf-co-produced I Want the Door to Open in 2021.
Tasha (she/her)
Tasha will return to Iowa City for this year's Witching Hour after performing for Mission Creek Summer Sessions in September. Tasha's second album, Tell Me What You Miss The Most mingles pockets of introspection with wide, expansive, marveling at what's yet to come. Born and raised in Chicago, Tasha is a musician who writes songs that take loving and longing seriously. Whether dwelling in the sad thrum of an impending breakup or the dizzying, heart-thumping waltz of new infatuation, here is an album that traces one artist's relationship to herself in love. Full of deep, invigorating inhales and relieved, joyful exhales, Tell Me What You Miss The Most is an exquisitely crafted breath of much-needed air. 
Writers of Color Reading Series @ Witching Hour
The Writers of Color Reading Series was created by authors T. Geronimo Johnson (he/him) and Andre Perry (he/him) in 2015. The series offers a dedicated presentation space in Iowa City for local Black, Indigenous, and other writers of color who are undergraduates, MFAs, or long-term residents. The series returns to Witching Hour in collaboration with Drue Denmon (she/her), a second-year fiction writer at the Iowa Writers' Workshop.  Attendees may be familiar with the series through events at the annual Mission Creek and Witching Hour festivals or the podcast hosted by writer Chuy Renteria. 
Femme Decks Presents: Cristian Ybarra (they/she) & Liara Kaylee Tsai (she/her)
Femme Decks is an electronic music collective aiming to empower women, POC, and trans and nonbinary folx, to engage in safe and inclusive environments, and to build connections between marginalized artists. Cristian Ybarra is a Queer, Afro-Chicanx DJ based out of Minneapolis with a specialty for techno, house, dark wave, and EBM. Liara Kaylee Tsai is an Iowa City-based electro/techno DJ known for utilizing broken beats and acid lines.
Eve Maret (she/they)
Eve Maret is a Nashville-based experimental artist and composer who employs a wide array of electronic media and techniques in her various disciplines, exploring the possibilities of personal and communal healing through creative action. To Eve, the act of creating is a wholehearted "Yes." She is devoted to creating and performing in a way that is inherently artful, emotionally raw, and transcendent
Poetry In Motion
A live show featuring top spoken word performers sharing their work with the accompaniment of the acclaimed Gerard Estella band. This show broadens the definition of spoken word by adding music to the powerful words brought to the stage. It speaks to anyone who appreciates poetry, music, and performance. Hosted by dynamic emcee Caleb "The Negro Artist" Rainey (he/him), the lineup includes Larry Moore (he/him), Heather 'Byrd' Roberts (she/her), Laura Johnson (she/her), Jocelyn Rifas (she/her), David Duer (he/his), Ever Taylor (she/they), and Kelsey Bigelow (she/her). This show is made possible through a partnership with The Iowa City Senior Center.
Iowa Artists and Presenters
As always, Witching Hour is proud to provide a platform for Iowa-based creative minds and thinkers. This year, over half of the artists performing at the festival are from Iowa.
Admission & Accessibility
Weekend passes are available at $15 and $25 for student admission and general admission respectively. An additional sliding scale payment option will be available for festival-goers with budgets outside of the standard pass prices. We believe that art should be accessible to all and appreciate whatever amount people are able to contribute. 
In addition to making this program financially accessible, Witching Hour is excited to announce that ASL interpreters will be present at most of the 2021 events. For more information about which shows will include interpretation, visit the schedule on our website. 
More information is available at witchinghourfestival.com.