Witching Hour Presents: Nakatani Gong Orchestra
Witching Hour Presents: Nakatani Gong Orchestra
October 2 @ 7:30 pm

-

9:30 pm

$10 – $20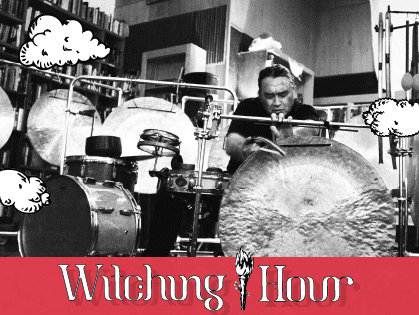 2022 Witching Hour Fall Series
Presented by Little Village Magazine, The Englert Theatre, Feed Me Weird Things & Public Space One
Sponsored by: ReUnion Brewery, Rylan and Ross DeValois of MidAmerica Securities, MidAmerican Energy, Phoebe Martin (REALTOR), Goodfellow Printing, Iowa Arts Council / Iowa Department of Cultural Affairs, National Endowment for the Arts, Think Iowa City, Iowa City Downtown District, Marcus-Fitzpatrick Team Blank & McCune, & University of Iowa Libraries.
This event is part of the 2022 Witching Hour Fall Series. 
Purchase a series pass 
HERE
 to get full access to all five shows in the series!
PLEASE READ before purchasing tickets:
On-Sale Schedule
Public On-Sale: Friday, 8/17 @ 10:00 AM CT
Ticket Options
$20 + Fees – General Admission
$16 + Fees – General Admission (Members)
$10 + Fees – General Admission (Student w/ ID)
Show Description
Tatsuya Nakatani is an avant-garde percussionist, composer, and artist of sound. Active internationally since the 1990s, Nakatani has released over 80 recordings and tours extensively, performing over 150 concerts a year. His primary focus is his solo work and his large ensemble project, the Nakatani Gong Orchestra. He teaches master classes and lectures at universities and music conservatories around the world. Originally from Japan, he makes his home in the desert town of Truth or Consequences, New Mexico. With his activity in new music, improvisation, and experimental music, Nakatani has a long history of collaboration.
Nakatani's distinctive music centered around his adapted bowed gong, supported by an array of drums, cymbals, and singing bowls. In consort with his personally hand-carved Kobo Bows, he has spent decades refining and developing his sound as an arrangement of formations of vibrations, incorporated in shimmering layers of silence and texture. Within this contemporary work, one can still recognize the dramatic pacing, formal elegance and space (ma) felt in traditional Japanese music.