Women's Entrepreneurship Lunch | Women in Construction
Women's Entrepreneurship Lunch | Women in Construction
November 11, 2022 @ 11:30 am

-

1:00 pm

Free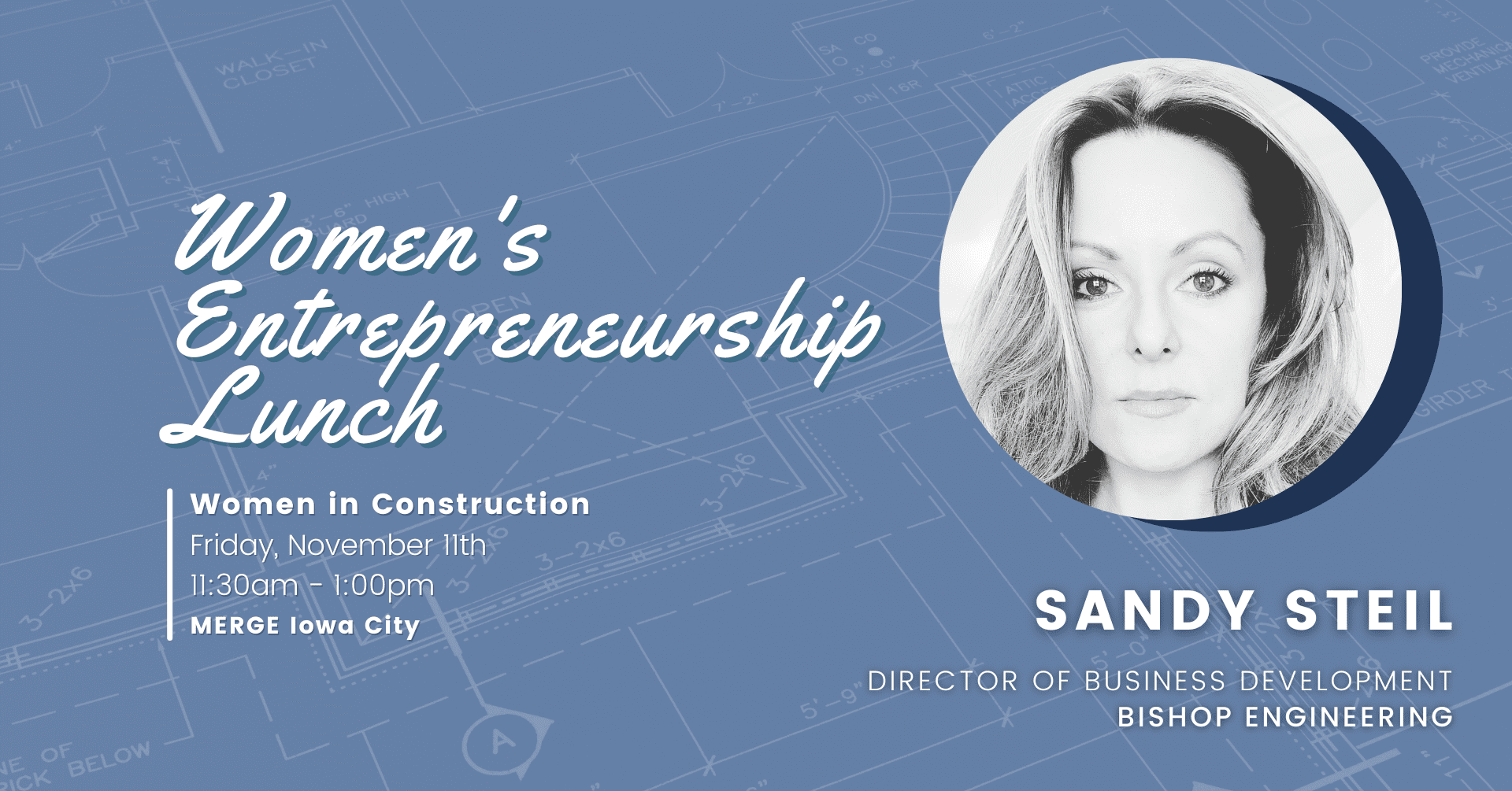 Please join ICAD and the University of Iowa's John Pappajohn Entrepreneurial Center (Iowa JPEC) for a great opportunity to network with other women entrepreneurs in the area and make lasting business connections. Let's empower each other and define what it means to be a woman doing business in Iowa City. This event is free and lunch will be served.
We're excited to welcome a panel of women in construction and related industries!
Featured panelists:
Sandy Steil, Director of Business Development with Bishop Engineering

Karyl Bohnsack, Executive Officer of The Greater Iowa City Area Home Builders Association

Diana Wubbena, Designer and Project Manager, McCreedy-Ruth Construction
We look forward to seeing you there! Kindly RSVP by 11/3/22. RSVP here: https://bit.ly/3SlK2yk
…
Sandy Steil's Bio:
Sandy is currently the Director of Business Development at Bishop Engineering. She is an Iowa Alumn and has been working in the land development and planning arena for over 15 years. She is a Dubuque native and moved to Iowa City to attend the University of Iowa in 2000 after serving 4 years active duty in the United States Air Force.
In 2017, the idea of creating a women's construction class to learn how to remodel homes came to fruition after a chance encounter with her father. The now famous phrase that sparked the idea was when her dad said to her "When are you going to get a husband?!?"
At that point in her life there were 3 people in her life that inspired her to be want to start learning remodeling, her father, a master carpenter and firefighter, Dick Schwab and Amy Pretorious, a local builder with Elevation Homes. She took the inspiration from each one of them and used her skills as a super connector to create the Home Improvement Confidence Course which has now expanded into the realm of woodworking.
Diana Wubbena's Bio:
Diana is currently the Designer and Project Manager at McCreedy Ruth Construction, a custom residential construction general contractor in Iowa City, IA. She is actively involved in every aspect of new construction and remodel and addition projects, from project initiation and contracts to finish selections, project management and invoicing. She is the main contact with customers throughout the design and construction process and works with drafting and estimating staff as well as owners and field crews and to design, estimate, schedule and manage projects.
Diana grew up surrounded by blueprints and walking through jobsites with her father who was a carpenter and small custom homebuilder. She obtained her AS in Construction Management from Kirkwood, however, she leans on her background as a CPA and community volunteer in her current position.