World Wednesday: Australian Dot Painting
World Wednesday: Australian Dot Painting
June 30, 2021 @ 2:00 pm

-

3:00 pm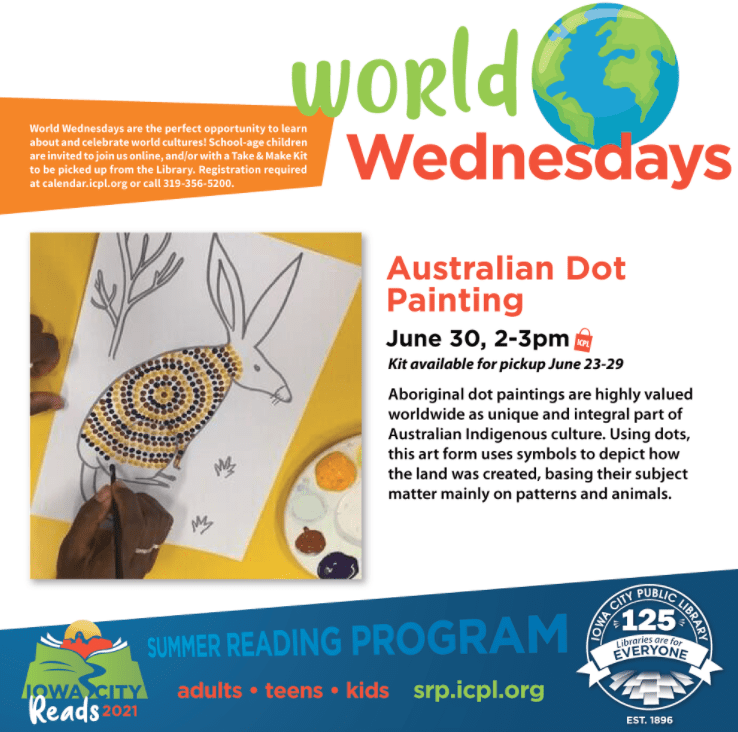 Kit available for pickup Jun 23 – 29, 2021
Registration opens June 2, 2021 at 8:00 am.
World Wednesdays are the perfect opportunity to learn about and celebrate world cultures! Each week we will learn by doing with a craft, game or activity that explores a different part of the world. School age children are invited to join us online, and/or with a Take & Make Kit to be picked up from the library ahead of time, for an activity that will help us learn and understand something new about different world cultures.
Aboriginal dot paintings are highly valued worldwide as being a unique and integral part of Australian Indigenous culture. Using dots, this art form uses symbols to depict how the land was created, basing their subject matter mainly on patterns and animals. Check out this activity to make your own art and find out more about Australian culture.
This event is open to the public.