World Wednesday: Claddagh Lore & Paper Craft
World Wednesday: Claddagh Lore & Paper Craft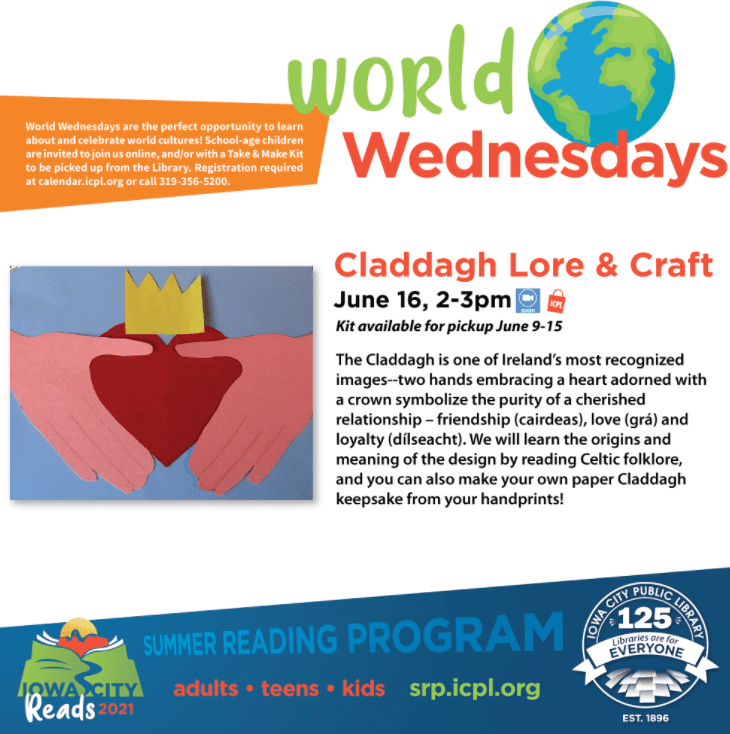 World Wednesdays are the perfect opportunity to learn about and celebrate world cultures! Each week we will learn by doing with a craft, game or activity that explores a different part of the world. School age children are invited to join us online, and/or with a Take & Make Kit to be picked up from the library ahead of time, for an activity that will help us learn and understand something new about different world cultures.
The Claddagh is one of Ireland's most recognized images–two hands embracing a heart adorned with a crown symbolize the purity of a cherished relationship – friendship (cairdeas), love (grá) and loyalty (dílseacht). Today we will learn the origins and meaning of the design by reading Celtic folklore, and you can also pick up an optional craft kit and make your own paper Claddagh keepsake from your handprints!
This event is open to the public.