World Wednesday: Korean Jegichagi
World Wednesday: Korean Jegichagi
August 3, 2022 @ 1:00 pm

-

2:00 pm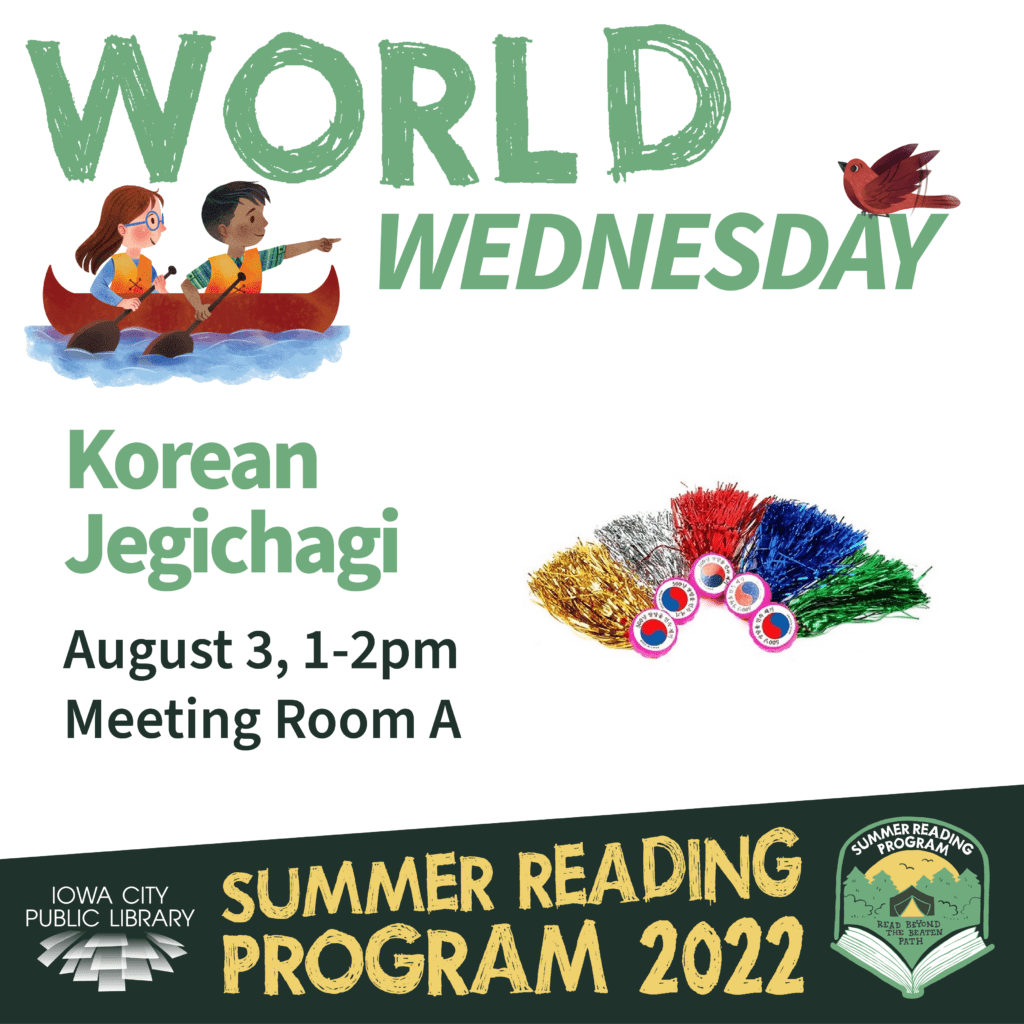 Wednesday, August 3, 2022 –1:00pm to 2:00pm
Meeting Room A, Meeting Room B, Meeting Room C
Jegichagi is a Korean traditional outdoor game in which players kick a paper jegi into the air and attempt to keep it aloft. A jegi is made from paper wrapped around a small coin. Join Minkyoung Kang and her family as you learn to play this fun and exciting game!
On Wednesdays, join us for a different program every week to broaden our knowledge of cultures around the world!
世界星期三
每周三和我们一起参加各种各样的活动,了解世界各地的特色文化!
韩式纸毽Jegichagi是韩国传统的户外游戏,由纸片包裹在小硬币外面制成, 做好后试试看能踢的多高。Minkyoung Kang 和她的家人将带着我们一起玩这个有趣的游戏!
————
Jegichagi es un juego al aire libre tradicional en el que los jugadores lanzan un jegi de papel al aire e intentan mantenerlo en el aire. Un jegi está hecho de papel envuelto alrededor de una pequeña moneda. ¡Únete a Minkyoung Kang y su familia mientras aprendes a jugar este juego divertido!
¡Los miércoles, ven a la biblioteca para un programa diferente cada semana para ampliar nuestro conocimiento de las culturas del mundo!
If you need disability-related accommodations in order to participate in this event, please contact the Library.
This event is open to the public.