World Wednesday: Make Colombian Obleas
World Wednesday: Make Colombian Obleas
June 29, 2022 @ 1:00 pm

-

2:00 pm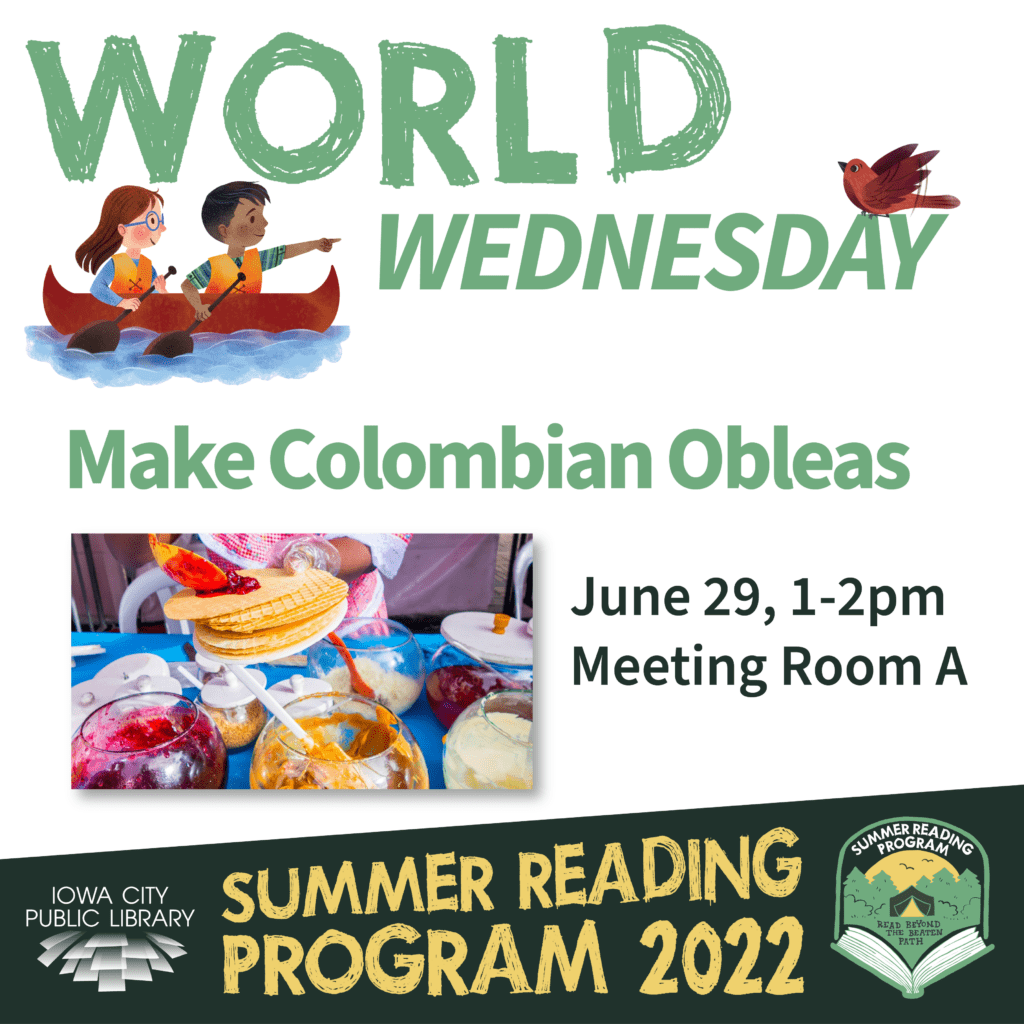 Wednesday, June 29, 2022 –1:00pm to 2:00pm
Come to the library to learn how to make Colombian obleas! Obleas are a traditional dessert that are commonly sold on the streets of Bogotá, Colombia. They consist of thin, round wafers with a variety of toppings. Customize your own oblea! We will have arequipe (which is like caramel) jams, cheeses, chocolate, sprinkles and more spreads to choose from!
On Wednesdays, join us for a different program every week to broaden our knowledge of cultures around the world!
————–
¡Ven a la biblioteca a aprender a hacer obleas colombianas! Las obleas son un postre tradicional que se venden en las calles de Bogotá, Colombia. Consisten en obleas delgadas y redondas con una variedad de ingredientes. ¡Personaliza tu propia oblea! ¡Tendremos arequipe (que es como el caramelo) mermeladas, quesos, chocolate, chispas y más para elegir!
¡Los miércoles, ven a la biblioteca para un programa diferente cada semana para ampliar nuestro conocimiento de las culturas del mundo!
今天我们将学习如何制作哥伦比亚obleas! Obleas 是一种传统的甜点,通常在哥伦比亚波哥大的街头出售。它们由薄圆形威化饼加上各种配料的做成。来做你最喜欢口味的Obleas吧!
我们将提供 arequipe(类似于焦糖)果酱、奶酪、巧克力、糖屑和更多涂抹酱供您选择。
If you need disability-related accommodations in order to participate in this event, please contact the Library.
This event is open to the public.