World Wednesday: Tai Chi with Haiming Chen
World Wednesday: Tai Chi with Haiming Chen
June 15, 2022 @ 1:00 pm

-

2:00 pm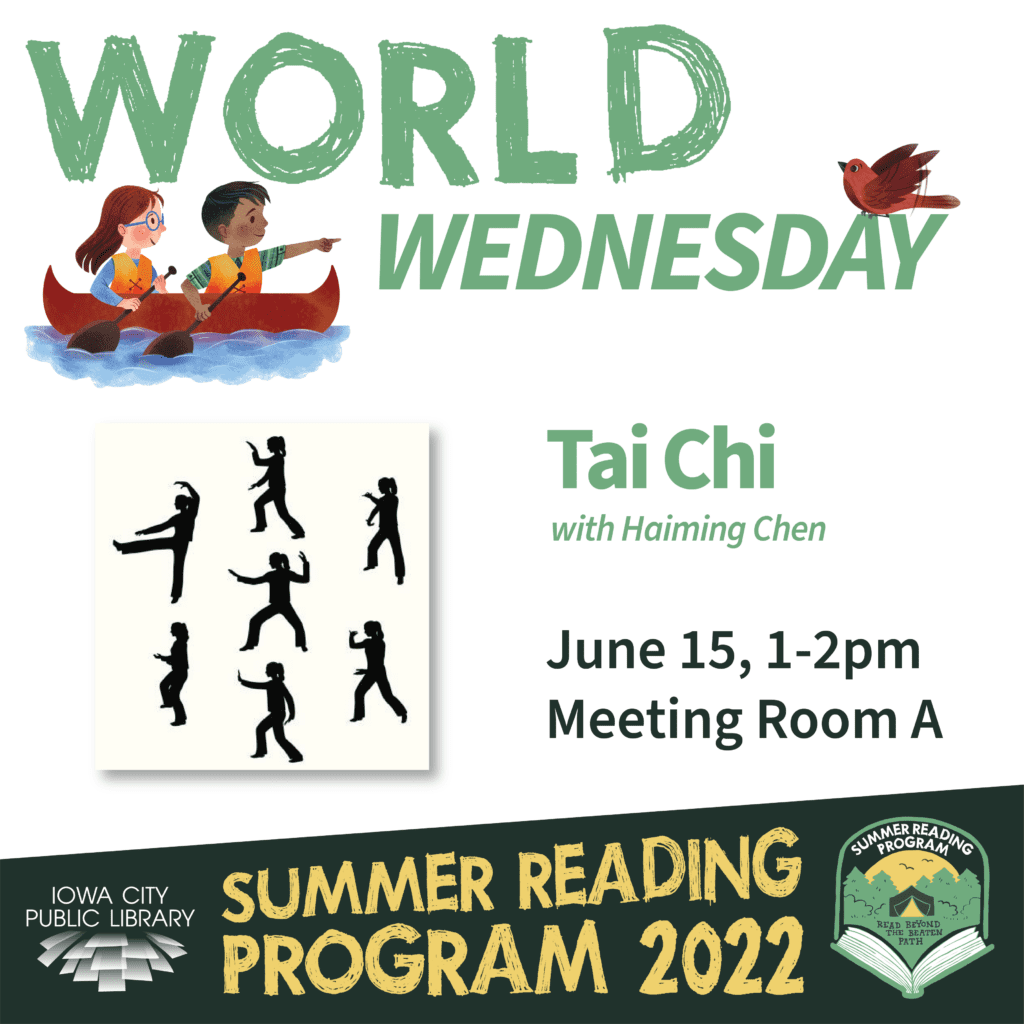 Wednesday, June 15, 2022 –1:00pm to 2:00pm
Join Haiming Chen as he teaches the basics of Tai Chi. Haiming Chen is an experienced Tai Chi trainer who has led classes in China, Japan, and the U.S. for more than 20 years. Tai chi is an ancient Chinese tradition that, today, is practiced as a graceful form of exercise. It involves deep breathing while performing a series of movements in a slow, focused manner.
On Wednesdays, join us for a different program every week to broaden our knowledge of cultures around the world!
—————-
Haiming Chen va a enseñar los conceptos básicos de Tai Chi. Haiming Chen es un entrenador de Tai Chi que ha dado clases en China, Japón y los EE. UU. durante más de 20 años. El tai chi es una antigua tradición china que, hoy en día, se practica como una forma de ejercicio. Se trata de respirar profundamente mientras hacer una serie de movimientos de manera lenta y concentrada.
¡Los miércoles, ven a la biblioteca para un programa diferente cada semana para ampliar nuestro conocimiento de las culturas del mundo!
世界星期三
每周三和我们一起参加各种各样的活动,了解世界各地的特色文化!
本周我们将和陈海明老师一起学习太极拳。陈海明是一位资深太极拳教练,他曾在中国、日本和美国教授相关课程20 年以上。太极拳发源于古老的中华武术,如今已成为一种广为流传的锻炼方式,其特点是专注,缓慢,流畅的动作并伴以呼吸的控制。
If you need disability-related accommodations in order to participate in this event, please contact the Library.
This event is open to the public.