World Wednesday: Zumba with Rachel Spangenberg
World Wednesday: Zumba with Rachel Spangenberg
July 13 @ 1:00 pm

-

2:00 pm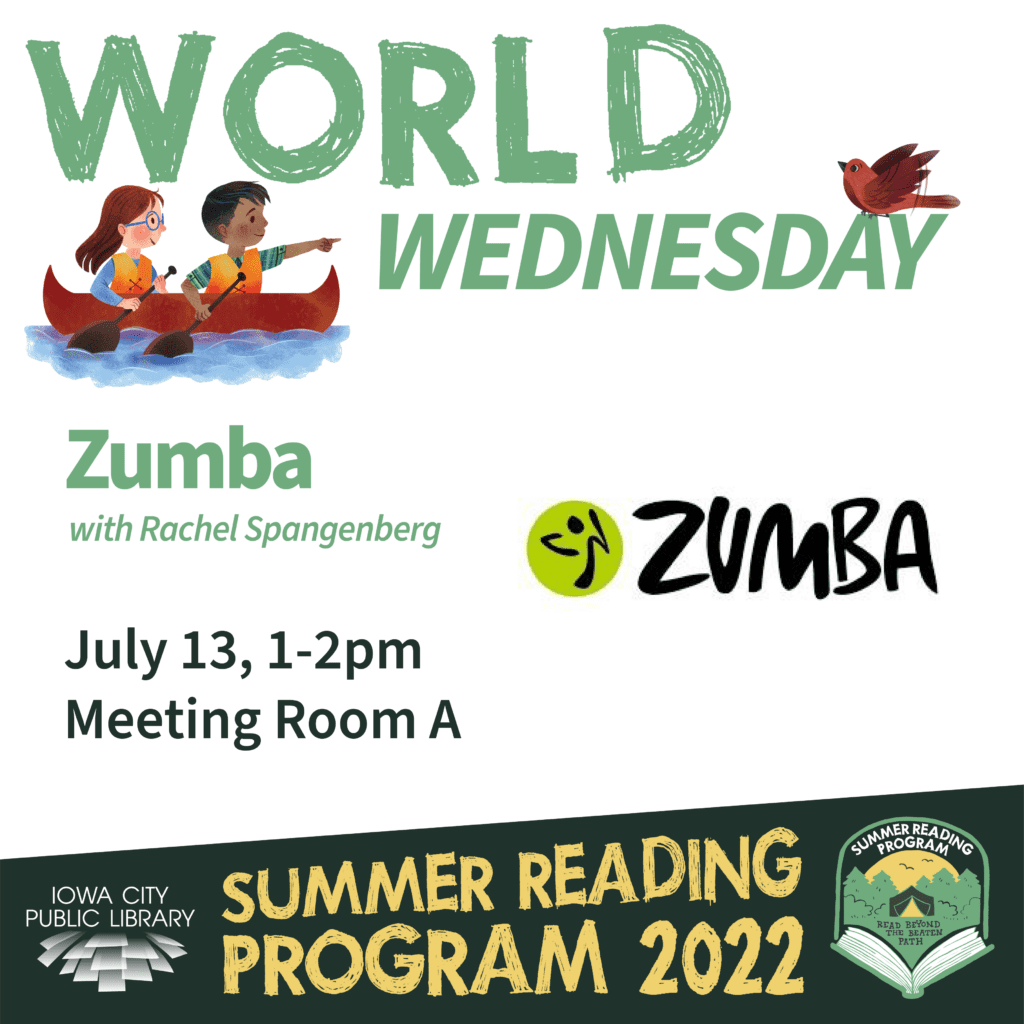 Wednesday, July 13, 2022 –1:00pm to 2:00pm
Meeting Room A, Meeting Room B, Online
Come to the library to dance Zumba with Rachel Spangenberg! She has been teaching Zumba since 2017 and she loves sharing her love of dance and music with others! Remember, there is no shame in Zumba! Laugh, dance, have fun, and shake it. As long as you're moving, you're doing amazing! This Zumba class will fill the room with Latin sounds!
On Wednesdays, join us for a different program every week to broaden our knowledge of cultures around the world!
世界星期三
每周三和我们一起参加各种各样的活动,了解世界各地的特色文化!
来图书馆和 Rachel Spangenberg 一起跳尊巴舞吧!Rachel 自 2017 年以来一直在教授尊巴舞,她热爱和人们分享她对舞蹈和音乐的热爱!请记住,不会也没有关系,欢笑,摇摆,开心舞蹈,只要你在动,你就是最棒的!今天的尊巴舞将会让整个房间溢满拉丁风情!
———–
¡Ven a la biblioteca a bailar Zumba con Rachel Spangenberg! Ha estado enseñando Zumba desde 2017 y le encanta compartir su amor por el baile y la música con los demás. Recuerda, ¡no hay vergüenza en Zumba! Ríete, baila, diviértete y agítalo. ¡Mientras te estés moviendo, lo estás haciendo increíble! ¡Esta clase de Zumba llenará la habitación de sonidos latinos!
¡Los miércoles, ven a la biblioteca para un programa diferente cada semana para ampliar nuestro conocimiento de las culturas del mundo!
If you need disability-related accommodations in order to participate in this event, please contact the Library.
This event is open to the public.