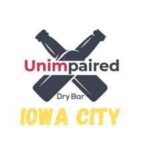 Website Unimpaired Dry Bar
A bar, without ALCOHOL?! Why yes that's us!
Unimpaired Dry Bar has an opening for bartenders, servers and cooks! Our alcohol-free bar and restaurant concept is a fun, casual, one-of-a-kind setting in downtown Iowa City with all of the amenities of a traditional bar and restaurant, minus the alcohol. We are looking for people who bring energy & enthusiasm to our eclectic team!
To apply for this job please visit forms.gle.