Events and Admin Coordinator
Full Time
$35,000-$40,000 USD / Year
Salary: $35,000-$40,000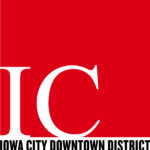 Website ICDowntown Iowa City Downtown District
The Iowa City Downtown District is thrilled to announce that we are hiring a full-time Events and Admin Coordinator to join our team. The ICDD's mission is to champion downtown as a progressive, healthy, and culturally vibrant urban center of the region. Downtown Iowa City is the front porch to the University of Iowa, home to over 350 businesses in a national landmark historic district juxtaposed against award-winning contemporary architecture.  It was recently also recognized as a state-sponsored cultural & entertainment district for the depth and breadth of cultural venues and entertainment venues. The ICDD maintains a strong organizational culture and has been recognized as an organization where creativity and innovation thrive. Our small, dedicated team is excited to welcome someone who wants to utilize their positive attitude, initiative, energy, and expertise to positively impact the lives of others.
The ICDD seeks an Events and Admin Coordinator to plan and execute a large variety of events both large and small, communicate directly with business owners and event attendees, develop and expand sponsorship relations, attract and work with volunteer groups, manage our contact database, and provide other assistance to our team.
The ICDD offers great benefits – including health care benefits, generous time off, retirement benefits after a year of service, and more.
Qualifications
A Bachelor's Degree in communications or a related field is preferred

Some level of event coordination and communications experience is preferred

Preference given to candidates that can demonstrate exceptional organizational skills 
Salary & Benefit Range
$35,000 – $40,000 a year commensurate with experience and room for advancement
Responsibilities by Function Percent of Estimated Time
70% Coordinate directly with the Director of Special Events to plan, direct, and execute events as identified in Iowa City Downtown District's strategic plan.
Responsible for coordinating event planning logistics and communications including email marketing, guest RSVPs, sponsor and volunteer organization, and other tasks as necessary to ensure excellence with a target to meet or exceed strategic objectives and stakeholder expectations.
10% Coordinate with the Director of Creative Services to execute the ICDD's marketing campaigns and special projects.
Projects include maintaining a social media events calendar, coordinating social media content, posting online resources, creating and updating materials, managing contact lists, executing event marketing plans, miscellaneous graphic design projects, and other tasks as necessary to ensure excellence with a target to meet or exceed strategic objectives and stakeholder expectations.
20% Other duties as assigned to support the ICDD Board of Directors' monthly communications and other executive ICDD meetings.
Specific Duties:
This position will report to the Director of Creative Services.
Event Coordination

Primary event planner and contact  for ICDD micro events

Event assistant to the Director of Special Events on large-scale events 

Volunteer coordination

Attendee/guest communications

Social media marketing coordination for events
Administrative assistance

Prep work for ICDD board of director monthly meetings

Scheduling and supporting committee meetings as needed
Work Location and Hours
Staff of the ICDD primarily work in the ICDD's downtown office and are afforded flexibility as dictated by case-by-case workload, personal needs, or other situations. 
Monday to Friday (8 am to 5 pm) – some nights and weekends as needed during events. 
Application Submissions / Schedule
Applicants should send the following items in one pdf digital copy to info@downtowniowacity.com:
Cover letter with interest statement (page 1)

250-word biography (page 2)

Resume (up to two pages)
Application materials received by August 15, 2022, at noon will be considered for hire.  Please research the Iowa City Downtown District organization at www.downtowniowacity.com to support questions that may arise.
Interviews are planned for August 22-30, 2022.   The role is expected to start at a flexible date in October 2022.
The ICDD is an equal opportunity employer and actively seeks applicants who reflect the diversity of the nation. No applicant shall be discriminated against on the basis of race, color, national origin, creed, religion, age, disability, sex, pregnancy, gender identity or expression, sexual orientation, genetic information, veteran status or any characteristic protected by law in its educational programs and activities, admissions, or employment.