Full Time
Driver's license required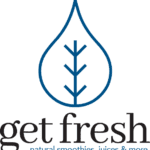 Get Fresh Cafe
We create and distribute raw, cold-pressed juices & yummy food.
Super flexible work schedule- 4 or 5 day work weeks- can be Monday through Friday or night and weekends. What works for you?
We are seeking a great person to join our already amazing team. The ideal candidate is hard working, detail- oriented, does not mind physical labor and computer work.  This is a production position so physical stamina,  sharp mental clarity, and a good taste in music is important. This individual will be assisting in the production, quality control and distribution of our cold- pressed juices. Each day of the week has different responsibilities. You will be in charge of up to 5 team members but must have a collaborative attitude.
Responsibilities:
Partake in the various stages of creating the standard selection of cold-press juice production throughout the week- preparation, production, packaging, distribution, and delivery in our super cool van.
Update spreadsheets for production days, operate commercial grade juicers, follow proper protocols,
Follow proper food preparation methods, knife safety, and meet Health Department Regulations at all times
Maintain a clean and organized work environment that complies with company standards.
Manage inventory and ordering. Scheduling staff. Some work can be completed remotely.
Drive the company van.
Requirements:
Able to lift 40 pounds regularly
Basic computer skills
Good basic math skills
Able to stand and move for approximately 8 hour shifts.
Able to stay motivated to meet deadlines and work in a fast- paced environment
Must be available on Wednesday and Thursday
Must have reliable transportation