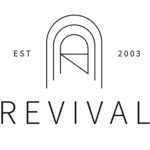 Website Revival
Revival is now hiring! We are looking for part-time seasonal team members to primarily work with customers on the sales floor.  Applicants should have strong interests in fashion, sustainability, and customer service. A strong applicant will be interested in learning more about how we connect in-person with our community as well as how we build our brand via online social channels.
Our store is growing now more than ever and we would love to meet you!
Who we are:
Revival is a women's clothing store located downtown in Iowa City. We have been in business for 18 years and focus on offering a curated selection of new, used, and vintage clothing both in our brick & mortar location and via our online store. Revival is known for offering sustainable fashion brands, quality resale items, and unique accessories and gifts.
Who we are looking for people who…
Have an eye for fashion and trend spotting
Love working and building Revival's community and the greater IC area
Care about the planet and want fashion to make a positive impact
Qualifications:
Prior retail and/or customer service is required
Flexible availability (must be available weekends & some weekdays – primarily after 2 pm). Applicants without weekend availability will not be considered.
Detailed oriented
Exceptional customer interaction skills
Other Details:
Compensation based on experience.
How to apply:
Please submit your resume along with a note and/or introduction of yourself and why you would make a good team member. We would also love to see your work! If you're an experienced writer/photographer, send us your portfolio! If your focus is on social media, we'd love to see your feed! We welcome any and all forms of creativity and want to know you! Show us your creativity however you feel it shines best.
Please email your application to info@revivaliowacity.com