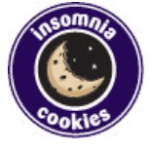 Website insomniacookies Insomnia Cookies
Description
Insomnia Cookies is actively hiring for a Store Operations Manager and we are seeking hospitality focused individuals looking to join a fun, entrepreneurial and rapidly growing company in a role that offers great training & mentorship, professional growth/quick advancement opportunities and achievable sales success!
Comp & Perks:
A competitive base + monthly bonus compensation package, Cookie Jar internal stock earnings, excellent comprehensive benefits coverage that includes medical, dental, vision & prescription plans, 401K with contribution match, 2 weeks paid vacation, paid sick time off, free cookies, awesome swag and so much more!
Job Duties:
Hire, coach and develop a diverse hourly staff that includes Shift Leaders, Cookie Crew and Delivery Drivers.
Lead service components including excellent food quality, engaging customer service, employee friendliness, and store cleanliness, through the team
Establish a strong culture of excellence that prioritizes cookie quality, customer service, and sales performance while also supporting personal growth and opportunity for all team members.
Develop and execute innovative recruitment marketing strategies.
Manage and audit inventory to maintain proper controls.
What we seek:
3+ years of management/leadership experience in a restaurant or retail establishment
Benevolent leadership style with a player-coach mentality when it comes to day-to-day management of the business
An innate sense of true hospitality and ability to deliver exceptional customer service to all of our guests
A solid technical acumen regarding restaurant/retail business software, proficiency with MS Outlook, Excel, Teams and prior experience hiring employees using an Applicant Tracking System
Familiarity with using commercial convection ovens – a plus