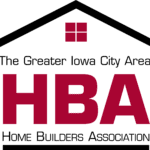 Website The Greater Iowa City Area Home Builders Association
Serves as the Chief Executive Officer, recommends and participates in the formulation of new policies and makes decisions within existing policies as they have been approved by the President and the Board of Directors.  Plans programs, directs activities of the Association to assure that objectives are attained, plans fulfilled, and member needs are met.   Maintains effective internal and external relationships.  Through management and leadership, achieves economical, productive performance, forward looking programming and constructive growth of the Association.
Contact The Greater Iowa City Area HBA office, karyl@hbaofic.org, for the complete job description.