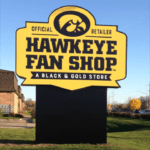 Website The Hawkewye Fan Shop / The Black & Gold Shop
We are the Official Retailor of Univesity of Iowa Athletics
Looking for motivated/out-going individuals with retail sales experience to join our Black & Gold Shop Team! You will get to work with the best Fans in the Country in support of the Iowa Hawkeyes! Our staff is team-oriented and goal-driven to succeed! Outstanding working environment with growth opportunities! We are looking to fill FT & PT positions, join the team! Employee discount on Hawkeye Gear!
The Black & Gold Shop and Hawkeye Fan Shops are located in Iowa City and Coralville, Iowa.
Qualifications: Ability to work well with others and provide excellent customer service. Experience with POS cash registers, and credit card terminals/PC is beneficial. Duties include receiving/checking shipments, as well as displaying and merchandising, occasional lifting will be required. A comfort level with equipment and willingness to learn is essential. Fun, Fast-paced environment with a passion for the Iowa Hawkeyes!
Hours: 15 to 40 hours a week. Must be available for Hawkeye Football game days and Holidays. Great for Retirees, College, and High School Students!
Game day positions at Kinnick stadium are available as well!
Store Locations:
Hawkeye Fan Shop 201 S Clinton, Old Capital Mall
Hawkeye Fan Shop 1525 2nd Street, Coralville
Black & Gold Shop, 1000 25th Ave, Coralville