Communications Coordinator
Full Time
$45,000 - $53,000 USD / Year
Salary: $45,000 - $53,000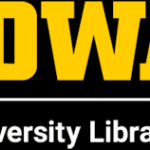 Website University of Iowa Libraries
The University of Iowa Libraries
Communication Coordinator
Constituent Relations Coordinator (PMP2/3A)
This is a 2-year, Specified Term position
This position is eligible for a combination of on-campus and remote work. Work arrangement options will be discussed during the hiring process
The University of Iowa Libraries seeks to hire a Communications Coordinator (Constituent Relations Coordinator PMP2/3A) to help execute the Libraries' strategic communication plan, supporting a wide-variety of communications, Libraries events, and general promotion that will help increase the visibility of the Libraries and its services. This position will report to the Libraries Director of Strategic Communications and External Relations.
Principal duties of the communications coordinator role include but are not limited to:
Plan, create, and distribute a wide variety of content for internal and external audiences through a number of communications channels such as social media, email, and print campaigns. Also provide support with stewardship communication as needed.
Optimize messages for various communication platforms and produce targeted messages for specific audience segments, including current students, faculty, staff, alumni, and Libraries student workers. Ensure consistent University of Iowa Libraries branding on all platforms.
Support leadership in planning and executing communication strategies in the Libraries' Communication and Marketing Plan, and partner with others on projects and engagement initiatives.
Assist with assessing outcomes of communication strategies, events, and activities and implement improvements as directed.
Collaborate with library staff and partners to develop, plan promote and manage events. Create and update print and electronic event materials, including flyers, posters, signs, and invitations. Assist with coordinating event details, including reserving spaces, food and drink orders, and A/V requirements. Provide photography and video recording at events as needed.
Perform other related duties, including assisting with preparing and tracking budgets for events and participate in special projects as needed.
Manage communication to current and graduated Libraires student workers
Build and develop relationships with current and graduated Libraries student workers
Explore the viability of creating a team of student ambassadors or a volunteer group drawn from a pool of current student employees who express interest; coordinate their activities with Libraries events and meetings as appropriate.
Investigate engagement opportunities for current and former student employees and work with Libraries supervisors and staff to develop (e.g., a welcome event for current student employees; a "signature" event to engage the entire campus and community; a homecoming experience for current and former student employees).
Create and implement data-gathering campaigns using a variety of data collection tools to identify current and former student employees' behaviors, attitudes, and opinions to enhance the Libraries' understanding of these groups.
Actively supports the University of Iowa Libraries commitment to diversity, equity, accessibility and inclusion (DEAI) in the workplace.
Required Qualifications:
Bachelor's degree; preferred major in communication, marketing, or public relations.
Professional experience in a communications role including writing for wide variety of audiences and channels, communication campaign development, and familiarity with photography, video production, and graphic design.
Experience using social media scheduling and management tools, including utilizing metrics to make decisions.
Demonstrated commitment to diversity, equity, and inclusion in an academic environment, workplace setting, and/or community.
Excellent written, oral, and interpersonal communication skills.
Demonstrated ability to work in a team-based setting where consultation, flexibility, and collaboration are essential.
Experience working with Microsoft Office and Adobe (InDesign, Illustrator, Photoshop, and Premiere Pro) and Canva.
Desired Qualifications:
1-3 years of experience in a communications role or educational role involving strategic communications
Experience in managing and creating content for websites and/or social media accounts
Experience working with and/or supporting executive leaders in a strategic capacity
Experience working with students, alumni, and donor groups
Experience with planning and implementing events
Experience working with Canva, InDesign, Illustrator, and Photoshop
Demonstrated competence in planning, creating, distributing, and analyzing web-based surveys, such as Qualtrics
Experience working in a university library setting
Application Details:
To apply for the position: http://p.rfer.us/UIOWAO8cCiv
To be considered for an interview, applicants must upload a resume and cover letter that clearly addresses how they meet the qualifications of this position. Be sure to mark the documents as a "Relevant File" to the submission when completing the application.
The hiring salary range for this position is $45,000 – $53,000 based on qualifications. This position will be posted for at least 14 days and may be removed from posting and filled any time after the original posting period has ended.
Successful candidates will be subject to a criminal background check and degree verification.
Up to 5 professional references will be requested at a later step in the recruitment process.
Equal opportunity/affirmative action employer
The University of Iowa is an equal opportunity/affirmative action employer. All qualified applicants are encouraged to apply and will receive consideration for employment free from discrimination on the basis of race, creed, color, national origin, age, sex, pregnancy, sexual orientation, gender identity, genetic information, religion, associational preference, status as a qualified individual with a disability, or status as a protected veteran.
Persons with disabilities who need assistance or accommodations with the application or interview process may contact University Human Resources/Faculty and Staff Disability Services, (319) 335-2660 or fsds@uiowa.edu.  For jobs in UI Health care, please contact UI Health care Leave & Disability Administration at 319-356-7543.
To apply for this job please visit p.rfer.us.